The Ruger 10/22 is one of the most famous and common rifles in the USA. That comes as no surprise, as it is reasonably priced and its durability has been proven over the years. There are many variations of the rifle – takedown, carbine, compact etc. The scopes we will be suggesting, in most cases, fit perfectly for all of them.
If you are looking for a way to improve your shooting accuracy, the best thing you can do is to purchase a scope. You will need a quality one, yet reasonably priced. There are many aspects to consider before buying the most suitable Ruger 10/22 scope. We all use our rifles for different purposes. Generally, you will want a scope that is ideal for the conditions in which you usually shoot. The distance on which you usually shoot is very important, you need the proper magnification for that as well.

For this reason, we will be reviewing a selection of several scopes with different characteristics. This will improve the chances that we review at least one scope that is ideal for your particular needs and budget.
Best Scope for Ruger 10/22 – Top 6 Optics
As we all know, the 10/22 is not the best for long-range shooting, so have that in mind when choosing a scope. Scopes for long-range shooting tend to be much more expensive, so you do not need to spend a fortune to get a decent scope for the Ruger 10/22.
If you need more general information and know-how on what to look for, and how to choose the best scope for your Ruger 10/22, jump to this section of the article
1. 

Nikon ProStaff Rimfire 3-9x40mm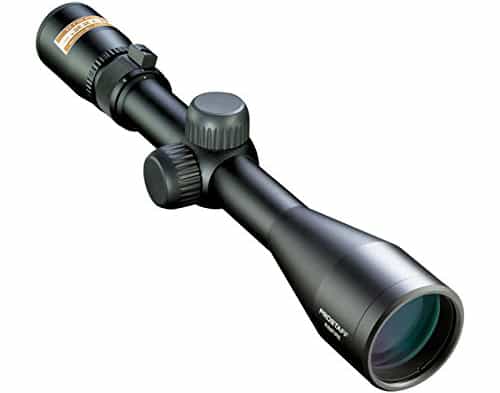 This is probably the best scope in our list. You can mount it on your Ruger 10/22 and use it basically for everything. Not only its magnification goes from 3X to 9X which fits most shooters needs, but the lens diameter is 40mm. A 40mm lens will always give you a better and brighter view than a 32mm or less.
Nikon is a well-known optics manufacturer. While they are better known as a manufacturer of cameras and camera lenses, they also make very high-quality scopes. The Prostaff Rimfire model is no exception, as it is of excellent quality. As you can guess by the name Rimfire, this model is made specifically to be easily mounted and used with a rifle chambered in .22LR.
Nitrogen Filling & Anti-Leakage System
This scope is filled with nitrogen. This ensures that the scope will never fog up when in use, as well as a preventative measure to increase the scope's resistance to oxidation. The inclusion of O-ring seals ensures that there will be no nitrogen leakage or air infiltration in this model of scope, even in the event of a sudden impact or shock. However, the O-rings will not prevent leakage if the lens or body of the scope itself is cracked, so take care not to handle it too roughly.
Added Lens Protection
The high-quality multicoated lens used in the construction of this scope is by far the best feature. The image clarity of this scope is remarkable. This scope just seems to absorb all of the possible ambient light from the surrounding environment. The high-quality coating used on the optics ensured that we never once had any excessive difficulty with glare from the sun or even raindrops getting in the way of our aim.
Lifetime warranty
The inclusion of a full lifetime warranty with this scope shows just how much faith Nikon have in the build quality of their products. You will not find a similarly priced scope which features such high-quality construction from any manufacturer. If you are looking for the best scope for Ruger 10/22 and you do not mind paying a bit extra for higher quality, the Nikon Prostaff Rimfire may be the perfect choice for you.
Specifications:
Features multi-coated optics which transmit over 98% of light
.22LR Specific Reticle
Precise ¼ moa adjustment turrets
Scope is both waterproof and fog proof
O-ring seals
Scope is nitrogen filled
Full lifetime warranty
2. 

Bushnell Drop Zone-22 BDC Rimfire 

2-7x32mm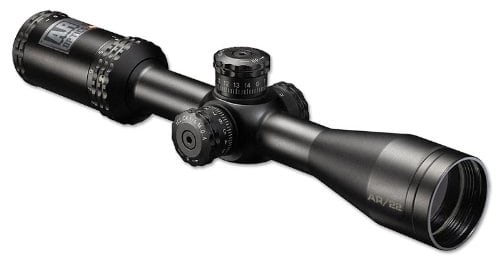 Check Price on Amazon
This scope from Bushnell is another excellent choice if you are searching for a product in the mid-price range.  Designed for .22 cartridge in specific it is an ideal choice for a Ruger 10/22. The scope has plenty of features which make its the price worthwhile. Most notable of this scope's features, the magnification can go down to 2X, making it easier to hit targets which are close to you. While the field of view may make this a little more difficult than it would be with a better optimized close range scope, it is still a nice inclusion.
One Of A Kind Optics and Craftsmanship
One of the best aspects of this scope is the amount of work which evidently went into manufacture. The build quality of this scope is unsurpassed, which is unsurprising if you are familiar with any other Bushnell optics. While Bushnell is known for manufacturing optics which work well with the AR platform, this scope is excellently optimized to work with a .22 rifle.
Easier Aim Leveling Than Any Other Scope
The inclusion of bullet drop compensation markings tuned for .22 is another good quality of life feature. Bullet drop compensation markings must be tuned to a certain caliber of a bullet in order to work as different bullets have different weights and powder loadings. These markings allow you to use an estimation of your range to your target to ensure that you can still shoot accurately out to a longer range. This is especially useful with rifles that fire light cartridges like the .22 which can drop quite a bit.
It Feels Natural
The adjustment turrets featured on this product are also evidence of the care that went into building this scope. Every adjustment is accompanied by a satisfying click, so you know exactly how much you are adjusting your scope every time. If you are looking for a well-built and durable scope, which can shoot out to longer ranges thanks to the addition of bullet drop compensation markings the Bushnell Drop-Zone 22 should be perfect for you.
Specifications:
Reticle Designed for the trajectory of .22LR
Optics which are fully multicoated
Reticle features bullet drop compensation markings
Side focus parallax adjustment
Target turrets adjust at ¼ moa per click
Magnification varies from 2X to 7X
3. 

Simmons 3-9x32mm .22LR specific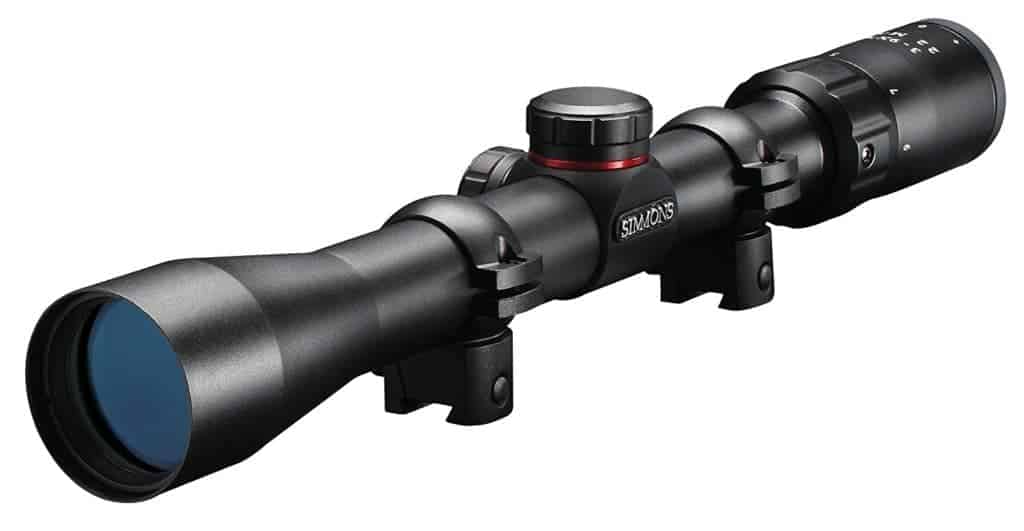 Check Price on Amazon
 The Simmons 511039 is one of the more common scopes that are mountable to the Ruger 10/22. Being designed for use with the .22 caliber cartridge in specific, you will find that this scope is ideal when accounting for recoil and parallax. The inclusion of coated optical glass lenses ensures that you will have no trouble when it comes to either scope glare or water droplets disrupting your aim in rough weather conditions. The best scope for ruger 10/22 if you are on budget.
Variable magnification
The magnification level of this scope is variable and the range of adjustment goes from 3X up to 9X. This allows the scope to be used for multiple purposes. Since the Ruger 10/22 is generally more useful at shorter ranges, you will find yourself using the lower end of the magnification spectrum.
 SureGrip Anti-Slip Material
Another feature which works well in adverse weather conditions is the inclusion of SureGrip rubber surfaces which allows you to adjust your scope even when it is wet. This combination of features means that this scope from Simmons is an excellent choice if you use your Ruger 10/22 for hunting. Since weather conditions may change suddenly while out on a hunt, it always helps to be prepared for the worst, and this includes your scope.
Popularity and The Cons
This is one of the more popular models of scope for the Ruger 10/22 and it is easy to see why – the price is dirt cheap. The excellent construction standards and reasonable price come together to make this scope one of the better models we have reviewed.
One of the few downsides to this product is that there tends to be a little bit of distortion around the edge of the sight picture. While it will not disrupt your aim, it can sometimes be a little distracting. Still, minor defects like these are to be expected in a scope in this price range. Available online for around 40 dollars, the Simmons 511039 is a very reasonably priced option if you need a reliable and effective Ruger 10/22 scope. It would be also a perfect scope for Marlin 60. If you are a Marlin fan check best scope for marlin 336.
Specifications:
Waterproof, Fog proof, Shockproof
Features optical glass lenses which are fully coated
Water droplets are repelled by the coated lens
Magnification ranges from 3X to 9X
Rubber coated knobs and turrets facilitate adjustments
⅜ inch dovetail mounting rings
4. 

Barska 3-9x32mm Plinker-22 Riflescope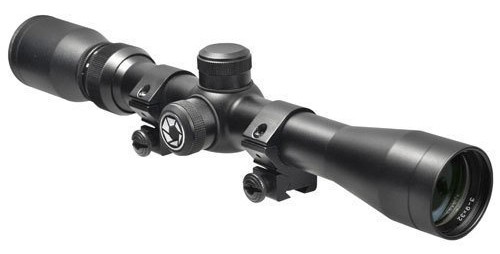 Check Price on Amazon
The BARSKA Plinker is a top tier scope for its price range.  It is one of the most durable scopes on this list.  It is built to be highly resistant to the elements. Dropping it or accidentally banging it won't destroy its accuracy. The Barska Plinker is fully protected against fog and water.
Deeper Insight Optics & Lighter Weight
The sight picture of this scope is another aspect which is very impressive, being remarkably clear when compared to models which are similarly priced. The inclusion of mounting rings for rimfire rifles also makes mounting this scope to your Ruger 10/22 far easier than it would be otherwise.
Another nice touch is the inclusion of scope covers and a microfiber cleaning cloth. This scope is also rather light, weighing only 11.5 ounces, so it will not affect your gun handling in a meaningful way.
In-depth Aim Optimization
It has one of the easiest setups for by hand adjusting your aim. This ensures that you can maintain an accurate target shot and also balance one of the most durable variable scopes possible. This scope is also very lightweight when compared to other models within its price range. This allows you to carry your rifle for long periods of time without getting tired or having your gun handling affected.
The 3.5-inch eye relief on this scope makes it easier to acquire targets at short range, where most users of the Ruger 10/22 tend to shoot. If you need a decent scope and you do not mind paying a bit extra, this scope from BARSKA may be the ideal choice for your needs. More about Barska scopes can be read here
Specifications:
Designed for .22 rimfire rifles

Magnification ranges from 3X to 9X

Product weight of 11.5 ounces

Reticle is adjustable for both windage and elevation

Features a 32-millimeter objective lens

Included mounting rings, lens covers, and a lens cloth
5. 

Tasco Rimfire Series 3-9x32mm 

.22 Riflescope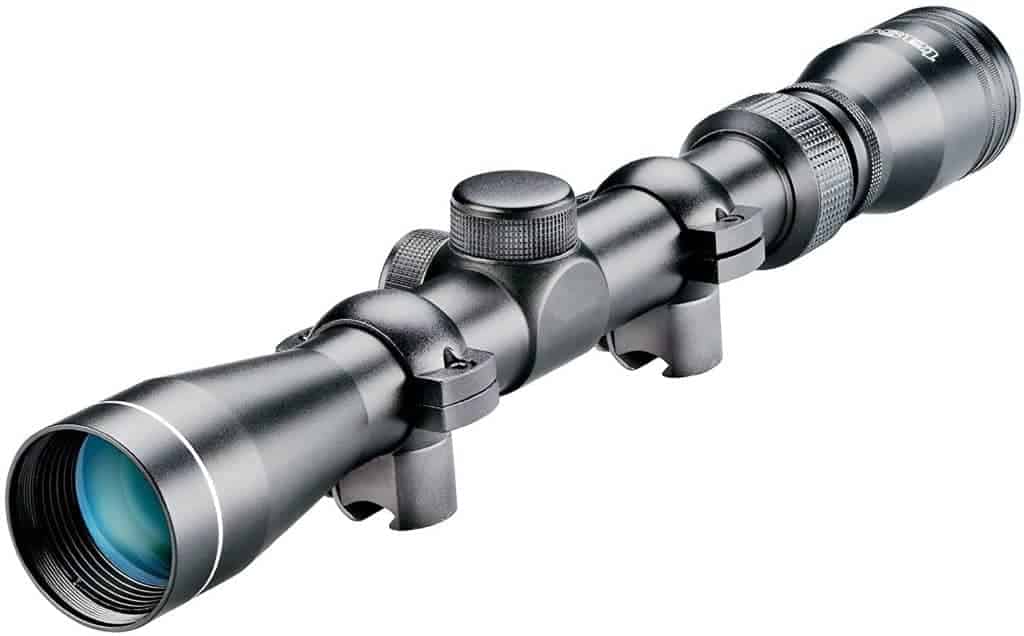 Check Price on Amazon
The Tasco Rimfire is a simple yet effective variable zoom scope that is about mid-range in terms of price. Available for around 60 dollars, you will find that this scope provides excellent value for money. The fully coated optics ensure that you will have no issues with water droplets or glare from the sun.
Shock Resistance & Variable Auto-Adjustment
The picture clarity of the sight is somewhat surprising for such an inexpensive scope. You will generally find that scopes built to a lower standard will have issues with clarity around the periphery of their field of view, but that is not the case with this model of scope. This scope is also surprisingly shocking resistant for a variable zoom scope. We have known certain models of variable zoom scope to have issues maintaining focus after repeated firing, thankfully, that is not the case with this scope.
The inclusion of rimfire rings makes attaching this model of scope a breeze but it is preferable to use a weaver rail for attachment. This will make your life easier, and weaver rails are available for relatively cheap online. The variable magnification settings range from 3X to 9X magnification, which is relatively standard when it comes to scopes for rimfire rifles. While an option for 2X zoom would be preferable for more close range shooting, the zoom range is still decent.
If you are interested in a medium-priced scope which has most of the features of a high-end scope, this product may be perfect for you. The need for a weaver rail may be off-putting to some customers, but if you already have one or know of a hunting supply store nearby that sells one, you will be ready to mount this scope as soon as it arrives. If you have the carbine version of the rifle this is probably the best scope for Ruger 10/22 carbine.
Specifications:
Specifically designed for use with .22 rifles
Includes rimfire rings for easy attachment
Features a 50-yard parallax setting
1-inch monotube construction
Fully coated optics
Magnification ranges from 3X to 9X
Objective lens is 32mm
6. 

Simmons .22 

4x32mm 

Rimfire Riflescope
Check Price on Amazon
If you are looking for a sturdy and reliable scope which is optimized for use with a .22 rimfire rifle such as the Ruger 10/22, you will find that the Simmons Truplex Rimfire is an excellent choice. The decision to use a fixed magnification scope for this model of firearm is actually a rather reasonable one. As the .22 caliber round generally has a shorter effective range than other full caliber rifle rounds, you will find that your optimal zoom will generally be around 4X or 5X.
The Ultra Resistant Design
A fixed zoom design allows this scope to be far more resistant to shocks and recoil than a variable scope would be. This is ideal for those long hunting trips in which you will have to take a few more shots than usual. It is also optimal for use when target shooting, as firing a significant number of times will have far less bearing on the effectiveness of your scope.
Easy Target Acquisition & Increased Accuracy
The 4 inches of eye relief provided by this scope allows you to more easily acquire targets and keep your eye further from the eyepiece while still being able to fire accurately. The one-piece tube construction of this model of scope ensures that your optic is both durable and lightweight. This, in turn, allows you to have superior gun handling when compared to other multi-piece scopes which end up weighing more than this model.
Simmons's Long Track Record
Simmons is well known as a reliable manufacturer of rifle scopes, and this can be seen as the fixed magnification cousin of their other famous model, the 511039, which we reviewed earlier. Like that model of scope, this offering from Simmons is excellently priced and features great value for money when compared to other scope options you have for your Ruger 10/22.
Specifications:
Scope is both fog proof and waterproof
Recoil-proof and shockproof
One-piece tube construction
Fully coated, high-quality optical glass
Features a quick target acquisition eyepiece
Fixed 4X magnification
Features 4 inches of eye relief
If you own a more expensive rifle like the M1a, you can check which are the best scopes for m1a
How To Choose the Best Ruger 10/22 scope
First manufactured in 1964, the Ruger 10/22 is one of the most prolific weapons ever made. With over 5 million produced and more made by the day, there is no shortage of Ruger 10/22 rifles in the world.
If you are a fan of Ruger, you can check Ruger mini 14 scope recommendations 
The Cartridge
As the name would suggest, the Ruger 10/22 is chambered in .22LR. Of all types of ammunition produced worldwide, .22LR is the most common by far. This rimfire cartridge is so popular due to the ease of manufacture, low recoil and reasonable amount of power for hunting small game. Since .22LR is so easy to produce, it is one of the cheapest forms of ammunition which can be purchased.
Though considered both a handgun and rifle cartridge, .22LR is nowhere near comparable to a full power rifle cartridge such as .303. While many critics bemoan the lack of stopping the power of the .22LR cartridge, this is one of the reasons it is so effective for hunting small game.
Hunting small game with larger rifle cartridges is quite literally the definition of overkill. Also, the commonality and low price of .22LR make it ideal for target shooting and practice.
If you are a fan of another popular cartridge the .30-30 you may want to check which is the best scope for 30-30 rifles
The Gun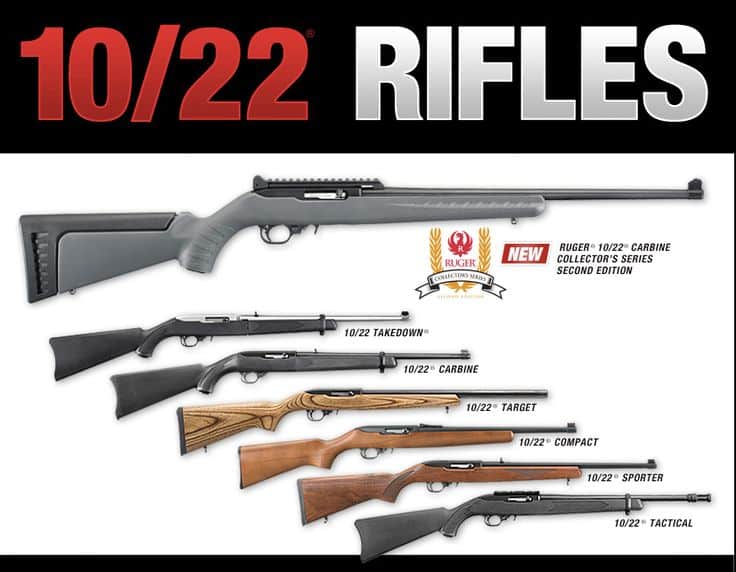 While we have thoroughly discussed the popularity of the cartridge it fires, it is time to discuss the weapon itself. The Ruger 10/22 is incredibly popular due to a combination of excellent features and common ammunition. It is a semi-automatic rifle which fires from a 10 round rotary magazine. The relatively simple mechanisms and method of operation mean that this is one of the more reliable weapons you can get your hands on.
The combination of the low recoil of the .22LR cartridge and simple gun handling characteristics of the Ruger 10/22 make it the weapon of choice for a first gun. Weighing only 5 pounds, the Ruger 10/22 features excellent gun handling but still substantial enough weight to make the recoil of the .22 round negligible.
Countless people have fired their first shot ever from a Ruger 10/22, and it seems that much more will do so before Ruger ceases production of this excellent weapon.
Another reason for this weapon's extreme levels of popularity is just how easy it is to customize it. The Ruger 10/22 is arguably one of the most customizable weapons every manufactured, with countless options available, ranging from pistol conversions to tactical attachments. The reason for this weapon's large amount of customization options stems from both its popularity and its construction.
The Ruger 10/22 is made with a 2-screw attachment point keeping the barrel in place, allowing you to remove and replace it easily.
Whereas other weapons would require a large amount of work for a barrel change, with the Ruger 10/22, it can be accomplished over the course of a short period.
This also makes the weapon far more accessible for cleaning and even maintenance such as barrel replacement due to wear and tear.
What to Look for in a Scope for Ruger 10/22
There are many possible accessories that you can purchase for your Ruger 10/22, but few of these accessories are as crucial or performance altering as a scope.
While there is certainly a sort of satisfaction to shooting with iron sights, it limits you when you are hunting, or target shooting as elements of the sights can obstruct your picture of the target.
Magnification Level
The level of magnification of your scope is one of the most important features to know before making your purchase. What you will need is a scope which has a magnification that fits your typical shooting distance.
When it comes to firing the Ruger 10/22, the .22LR cartridge is not powerful enough to maintain its kinetic energy over a long distance. This means that you will want a scope which is mid ranged at maximum.
Fixed Zoom vs. Variable Zoom
The next feature to consider when purchasing your new scope is whether or not you would like your scope to feature variable zoom. While variable zoom scopes used to be more expensive and less reliable, today, you can purchase a variable zoom scope for the same price as a fixed scope.
The vast majority of the scopes you will find available online feature variable zoom, which allows you to adjust your magnification, so it better suits your shooting distance.
There is one advantage to fixed zoom scopes, but this is usually not that big of an issue unless you would like your rifle to be more rugged in the case of survival situations. A fixed zoom scope will be more durable than a variable zoom model, as it will be less susceptible to shocks.
This may be a good choice if you find yourself hunting often and you would like a rifle scope which will not have difficulty withstanding a few impacts. Keep in mind that durability is relative when discussing scopes, they are still fragile pieces of equipment which should be handled with the utmost care.
Conclusion
We hope that this guide has helped you find the perfect scope for your Ruger 10/22. The joy of owning such a highly customizable rifle is that you can truly make it your own and a scope is no exception. Each of us has varying tastes when it comes to sights, so we hope that we have provided a good selection to choose from.