Our quest to find the best scope for 30-06 began six months ago after we rediscovered the lost love for this old timer while hunting Elk in Montana.
It was a 600 yard shot on an overcast day and Bob, my buddy was using the Browning Bar semi-auto loader (.270 Win) while we (me and my son) were carrying an M1 Garand and a Mossberg Bolt action.
As the elk moved from the sagebrush to the timber above, it swerved suddenly causing my buddy to miss his first shot. But my faithful old Garand powered by the 180-grain Nosler Partitions cracked like thunder and plowed through the shoulder.
The buck staggered for a while before crashing down in the grass. Perfect shot!
Later, while we skinned the buck and got talking about the perks of better ballistics, easier recoil and pin-point accuracy at longer ranges, we felt the need for a better set of glass on the rifle.
The old 4x Bushnell had served its time and we intended to test the mettle of the 30-06 in Africa in the coming year.
Thus began the search for the best 30-06 scope. 
The 4 Best Scopes for 30-06
Despite being around for more than 100 years and earning a spot in almost every gun enthusiast's collection, the 30-06 still manages to bewilder you when it comes to picking the right scope. Don't get us wrong here. There's no dearth of scopes compatible with the 30-06.
But to hit the sweet spot between focal range and magnification for big game hunting at longer distances is a tall order. At the same time, we needed an all-around scope that could cover just about everything from plinking to hitting varmint.
After what seemed like an eternity spent in research, speaking to friends, farm boys, veterans, sales guys and sifting through a lot of that information, we managed to narrow down on four scopes which we believe mate best with the 30-06 caliber.
#1 – Leupold VX-1 3-9x40mm – Good All-Purpose Scope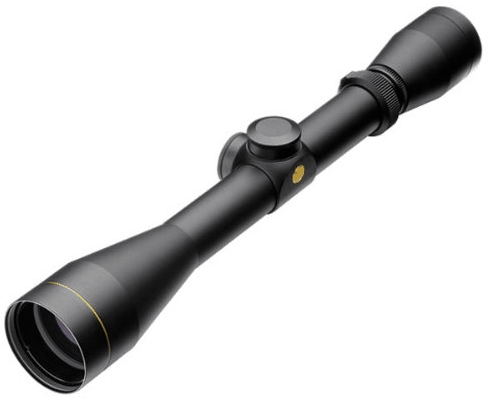 What better than an all-American scope for the most versatile American centerfire caliber! Leupold is one of the top-rated brands in riflescopes and most people might not be surprised to see it top this list.
However, our pick is their entry-level scope in the VX-1 series, the 3-9x40mm.
This is a variable power scope that's built like a tank, boasts of Leupold's Quantum Optical System and comes at a very affordable price. Yeah, we don't believe that the scope must cost at least half of your rifle.
For the 30-06, the 40mm objective transmits enough light to hit targets up to 300 yards with ease. Unless you are looking at hunting over 400-500 yards, this scope offers the best bang for the buck.
Generous Eye Relief
Apart from the standard Leupold features like the 1-inch aircraft grade aluminum tube, matte black finish with gold accents (no gaudy brand lettering) and a lightweight form factor, the Leupold VX-1 has one of the best optical quality at this price point.
The Multilens 4-coating provides clear and crisp images with almost 92% light transmission. In a real-life hunting scenario, it allows you to spot and lock on to your target irrespective of the camouflage.
We love the 4.2-3.7-inch eye-relief on the VX-1 3-9. Even first-timers who haven't experienced the extra kick of the 30-06 firearm will appreciate the generous eye box. It's perfect for hunting situations and pretty good for bench rest shooting as well.
In simpler terms, fewer chances of the scope kissing your face.
Duplex/LR Reticle options
As we said earlier, this isn't our pick for a long range hunting scope. So, the duplex crosshair reticle works great for more traditional hunting use.
Having said that, the VX-1 is also available in an LR Duplex version with the two dots that can be used as a barebones Ballistic Drop Compensator.
But that's overkill unless you are looking to stretch north of 400 yards which is not what the scope is designed for.
Stick to the under 400-yard range and this will amplify the accuracy of the 30-06 caliber.  
Our two cents
This is a classic lightweight all-purpose scope that is accurate, compatible with a whole range of firearms and has an excellent optical quality that holds its own when compared to much higher priced scopes. To top it off, Leupold throws in a lifetime warranty.
For the 30-06 user, this offers unparalleled accuracy and fast focusing at short to medium range distances. It would be a suitable choice for the 30-30 as well. 
#2 – Nikon Prostaff 3-9×40 Riflescope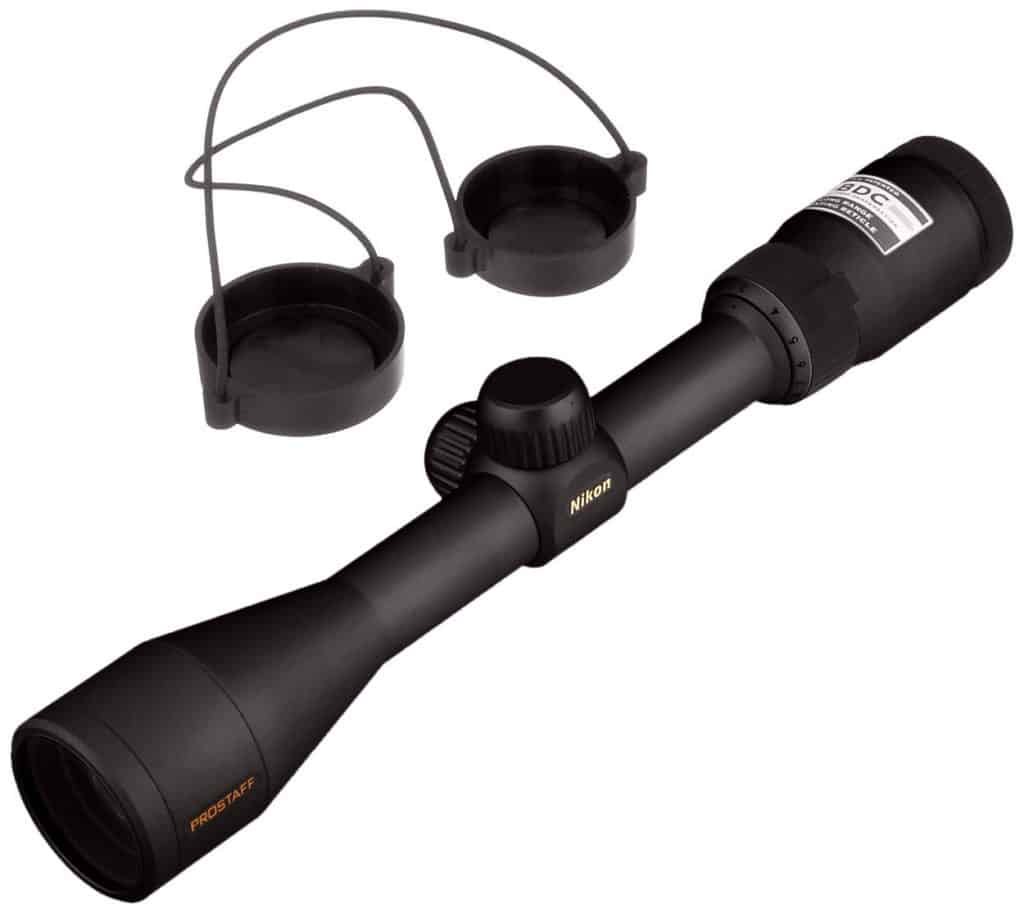 The only reason why the Nikon Prostaff 3-9×40 didn't top this list is because of the slightly bigger dimensions of the scope which demands higher scope rings to mount it.
Else, it can easily edge out the Leupold 3-9×40 as the defacto choice for hunters looking for a budget scope for their 30-06 rifles.
Top quality construction clubbed with excellent optics and a BDC reticle makes this a great choice for short, medium and slightly longer range shooting.
Sturdy, all-weather scope
Nikon has been one of the forerunners in making scopes that require minimal fiddling-with on the range. The Prostaff is no different. It is a reasonably light all-aluminum scope that is nitrogen filled and O-ring sealed. Water and fog won't affect the glass and it can easily absorb the recoil of larger caliber rifles.
The spring-loaded zero reset turrets allow easy adjustments on-the-go.
It features Nikon's multicoated optical system that enhances light transmission and the optical quality is the best-in-class. Clear, crisp images with excellent contrast give you the edge in a hunting scenario. The eye relief is 3.6 inches which once again, is perfect for the 30-06 rifle. Some of the casual shooters that we spoke to, mentioned that they wouldn't touch any 30-06 caliber firearm without a scope with at least 4 inches of eye relief due to the extra recoil.
But I am 6'2 and 220 pounds. Even 3" works great for me. It's all about how well you can handle the rifle more than anything else.
BDC Reticle calibrated to 600 yards
The BDC reticle clubbed with Nikon's Spot-On app makes it effortless to hit your targets with precision at distances up to 300 yards. The reticle is calibrated up to 600 yards. But even with the calibration, achieving a good shot at that distance with this scope would take some brilliant shooting skills.
It's not impossible but seems like a stretch.
For any distance lesser than 400 yards, the Nikon Prostaff 3-9×40 is one of your best choices for the 30-06.
Our two cents
Great image quality, sturdy construction, and reliable performance, the Nikon Prostaff 3-9×40 is completely worth every penny that you'd spend on it.
It can take more than a few bumps and easily holds zero despite the recoil of the firearm.
#3 – Vortex Optics Diamondback HP 4-16×42 Riflescope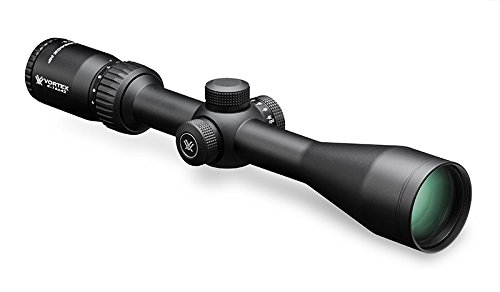 As strange as it may sound, we have never ventured beyond a Bushnell or a Nikon in all these years. But of late, we have heard a lot of good things about Vortex's line up of scopes from experts in the field.
So, we decided to find one that could qualify as the best scope for 30-06 and viola, we found a worthy contender in the Vortex Diamondback HP 4-16X42.
This is a worthy upgrade from the versatile 3-9x40s that have remained a favorite with hunters over the years. There's a bump in the magnification, great quality turrets that have a resonating click and a clean reticle that allow you to stretch the capabilities of the 30-06 to its full capacity.
The Dead-Hold BDC Reticle
Vortex sticks to the traditional 1-inch aluminum tube construction with its proprietary ArmorTek weatherproof coating. It's argon gas purged and O-ring sealed. It feels like a brick though it isn't as heavy as it appears to be.
It features a very clean reticle with vertical crosshair hash marks corresponding to 1.5, 4.5, and 7.5 MOA and horizontal ones corresponding to 2, 4, and 6 MOA. Personally, we love first focal plane scopes because they tend to be more accurate when you are looking to use it for anything below maximum magnification.
But despite being a second focal plane scope, the Vortex Diamondback HP 4-16X42 allows you to accurately hold for elevation. This eliminates any guesswork about wind-drift that comes into play over longer distances
In simpler terms, if you have never shot beyond 100 yards, this is the set of glass that you need on your 30-06 rifle to hit that target accurately beyond 350 or even 400 yards.
Bright and clear even at Maximum magnification on a cloudy day
Thankfully, we have had the opportunity to look through some of the best scopes that money can buy. Those are all priced above $1000.
The Vortex Diamondback HP 4-16X42 can easily be compared to some of those glasses in terms of clarity, light transmission, and contrast.
The images are clear, crisp and there is no tinting or fuzziness even at sunset on an overcast day. Even if you are at the maximum magnification of the range, you will easily be able to spot your target in low contrast surroundings. That's pretty much what any shooter would demand from a hunting scope.
Our two cents
Although not cheap, the Vortex Diamondback HP is a lot of scope for the money. The objective clubbed with the increased magnification and the easy-to-use reticle put targets at longer ranges well within your reach.
The rugged construction can easily tackle the recoil of the 30-06 and there's a generous 4-inch eye relief.
If you are looking for a reliable hunting scope for longer ranges with your 30-06 rifle, we highly recommend the Vortex Diamondback HP.
#4 – Vortex Optics Viper HS 4-16×50 Long Range Rifle Scope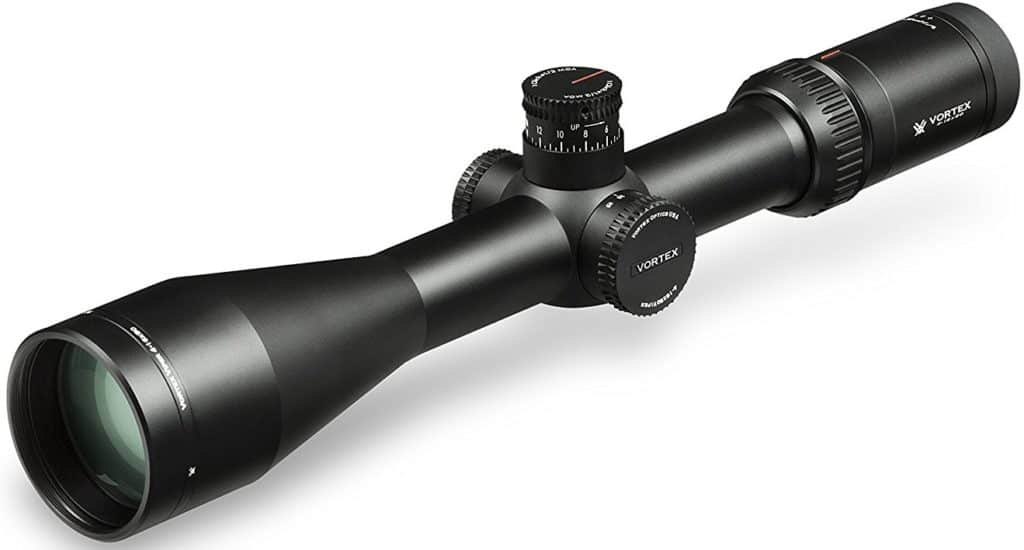 Last but not the least; we come to the pick of the lot for our shooting requirements for the upcoming tour of Africa, the Vortex Viper HS 4-16×50 Long Range Riflescope.
This is hands down, the best scope for 30-06 for effective long-range shooting where the stopping power or muzzle velocity of the bullet doesn't start to taper.
A 50mm objective, 16x magnification on the higher side and Vortex's Dead-Hold BDC reticle allow extreme precision at distances beyond casual shooting.
We are talking sniper distance here folks. That's 1200 yards and beyond.
Rock Solid construction
Coming from the HS (Hunting Shooting) range from Vortex, the Viper is crafted from a single aircraft-grade aluminum 30 mm tube. It is argon-purged and O-ring sealed and features exposed target-style elevation turret and a capped windage turret that protects it from accidental movements in the field.
The construction is as solid as a rock. But the caveat is that it is on the heavier side.
It retains the black-matte anodized finish with Armortek coating that's a standard with Vortex's HS and HST line up of scopes.
Fast focus eyepiece and MAG View
We have already spoken about the Dead-Hold BDC reticle earlier. The Viper has a fast focus eyepiece that allows effortless focusing fast on the reticle.
When you are zooming-in in low light, the MAG view magnification indicator provides the reference that you need for the magnification level.
Another neat feature is the Customizable Rotational Stop (CRS) which can be a lifesaver especially when you are making frequent elevation corrections with multiple revolutions. You can return to the zero point accurately in a jiffy.
All-in-all, the Vortex Viper HS has a well-rounded feature set that is aimed at simplifying life and improving accuracy in a long-range shooting set up.
Our two cents
We have heard heated debates from self-proclaimed hunters about the maximum effective range for shooting elk or pronghorn or whitetail. Some say that it's the shooter that matters more than the cartridge.
Others peg it on the cartridge and the scope.
Having christened our Vortex Viper HS 4-16×50 on the very first day of the hunt, we couldn't be more satisfied with it. It is an excellent piece of glass that will allow you to realize the longer-range shooting potential of the 30-06.
But since we also needed something for punching paper and plinking, we also got ourselves the Leupold VX-1 3-9X40! We believe that we have a good combo of scopes that should stick around for the next few years.
You may find interesting our guides about the best scopes for ar-10 and best m1a scopes interesting.
Do you have your personal favorite best scope for the 30-06? We would like to hear your thoughts! Do write to us.