Who wouldn't want a rifle that the US Army found efficient enough to replace their old issues? Although they look almost exactly the same, there is one small difference between the Army's M16 and the civilian AR-10.
Your AR-10 is bigger and shoots larger rounds. When you're stocking up on guns, why would you opt for anything but the most powerful? Even compared to its cousin, the AR-15, the higher standards of accuracy, precision, and power are undeniable.
In the time of its creation, the gas-operated, magazine-fed prototype was genius. That's only one of the many reasons why it remains popular with the public today. 
What makes it so great?
Lightweight (about 6.5lbs empty)

Most economic rifle on the market

Easy to customize and build your own

Dependable and Powerful

Versatile in build, use, and types of ammo
When you imagine your dream rifle, you're probably envisioning a custom build of an AR-10 and don't even know it. They are the most versatile due to endless stocks, grips, and magazine options. Finding a variety of parts to build your own is affordable, but out-of-the-box can have reasonable prices too. This is what makes it the most economical rifle on the market.
Although the AR-10 has a steeper learning curve than an AK-47, AR-7, and other infamous rifles, it's well worth the extra effort. If its respectable innate traits aren't convincing enough, let's look at what it's capable of.
Going the Distance: Maximize your Shooting Range
Out-of-the-box, an AR-10 can shoot accurately roughly up to 200 yards with less than 1 MOA in the right hands.
With the best scope for AR-10, you can shoot up to 1000 yards. That kind of distance might be hard to imagine, but with the right scope, it's not as crazy as it sounds. It gets even better the more you practice and get to know your rifle and scope.
A scope with the perfect, personal fit will make you feel like a pro in no time! However, before you get carried away, let's put your typical hunt or target practice into perspective – literally.
A Quick Guide to Distance: How Far will Your Bullet Go?
For an out-of-the-box AR10 with a 21-inch barrel, keep these rough measurements in mind:
Long Range: about 400 yards and above
Medium Range: about 200 – 400 yards
Close Range: Under 200 yards
Since AR10s are easy to build and customize, these ranges will change with respect to barrel length. The longer the barrel length, the further your range will reach. 
Now let's look at magnification as choosing too weak or too powerful of a scope will be counterintuitive to your end goal.
What magnification do you need?
Long-range shooting takes some practice since factors like wind make it more difficult. However, you've already chosen one of the best long-range rifles on the market. If you want to improve your shot or push your personal best, you'll want a suitable AR10 scope to get you there.
In general, you'll want higher magnification for longer shots. If you are new to rifle scopes and want to find out the answers to question like  – What is magnification and what does it mean? Check out our guide here.
Now let's figure out which one is best for your typical shooting distance:
Long Range (400 yards and above)

Long-range can be tricky, depending on the size of your target. Smaller targets require better clarity and higher magnification, while larger targets do not. However, the best magnification for AR-10 at long range is about 9x and up. For long-range shooting, you would want a lens diameter of 40mm or more as well. Higher magnifications need more light, and a bigger lens absorbs more light. Our suggested scopes for long-range shooting all feature a 40mm lens or a larger one, so you shouldn't worry about it too much. 
Medium Range (200 – 400 yards)

For most AR10 users, the medium range is the most comfortable. With the heavy-duty power behind an AR10, you can easily obliterate anything in this range or lower. However, you'll want at least 5 – 9x magnification to see your target well enough.
Close Range (Up to 200 yards)

Close range for the AR10 is often the same as long-range for other rifles. You will have no problem hitting anything in this distance. However, since your target is closer, you'll want lower magnification. We suggest 1 – 4x power.
The best scope for AR-10 will be one that suits your typical shooting distances. If you don't often hunt or target practice in large, open areas, don't buy a scope with high power.
On the other hand, if your environments are as versatile as your favorite rifle, choose one with a wide variable. Some days you might only use 4x power while other days you'll have to crank it up to 16x or more! It's all up to you.
You should be taking proper care of your AR-10, check how to clean an AR-10.
---
The 6 Best Scopes for AR-10 Rifles
Here is a quick list. Read on to see our more comprehensive reviews of each scope.
A quick note: why do some scopes say "BDC" and others don't? BDC stands for "bullet drop compensation."
Simply, this means that you will not have to adjust the elevation for longer range shots. All you have to do is use the reticle that matches the distance you are shooting and pull the trigger.
Finding Your Next Scope
Let's get right to it! Which one of these do you think will serve your needs best? We've tried to include scopes with different magnifications in different price ranges, so there is something for everybody. 
1.

Athlon Optics, Argos BTR, Riflescope, 6-24x50mm FFP
Check Price on Amazon
Check Price on OpticsPlanet
This Athlon riflescope gives you various magnification settings between 6x and 24x power. These settings are combined with a 50 mm objective lens and provide you with a great field of view and collect plenty of light for an optimal sight picture and lots of color contrast. 
The reticle of the scope is on the first focal plane. It'll change sizes between the magnification powers to keep its holdover hash marks the same relative to your target no matter how far you're zoomed in. The advantage of this is that you can make precise shots at further magnification levels but make snappy shots at longer zooms. The reticle does get a bit small at the farther magnification settings, so be careful.
Illuminated Reticle
To make things even better, the reticle is illuminated, so this is an optimal scope for use at dusk or dawn or in other low light conditions. It's etched straight onto the glass to prevent it from shaking or shuddering even under heavy recoil.
The lenses of the scope are multicoated to improve light transmission even further. The color contrast is truly superb and can let you pick out your target from a background that is somewhat uniform in color. 
The riflescope is made with aircraft-grade aluminium. When combined with the durable reticle itself, you've got an extremely long-lasting piece of equipment that can withstand punishment from a variety of sources. It's also waterproof, so feel free to take this in the rain or cross a river without having to worry about your scope failing when you need it most.
The Bottom Line
Since it has such a wide range of magnification, this scope is suitable for any use, especially for longer ranges. While it's good enough for hunting, target, benchrest, or tactical shooting, it doesn't excel in one or the other.
In other words, it's the Renaissance Man's (and Woman's) scope. An excellent choice for all-around use. 
This scope would also be one of the best scopes for .308.
---
2. Vortex Optics Diamondback 4-12x40mm Dead-Hold BDC
Check Price on Amazon
Check Price on OpticsPlanet
You don't realize what you could be missing when you stick with the same brands. Although Vortex isn't as popular as Nikon or Bushnell, they are quickly rising and for a good reason.
This scope, in particular, is a simple one, void of excessive gadgets. Instead of attempting to impress you with a novel-length list of common features, Vortex put their focus into performance and reliability. This scope doesn't hold your hand through the hunt – it just excels at what it's designed to do.
The first thing you'll notice is an aircraft-grade aluminium build. This keeps it lightweight without sacrificing durability. How durable, you ask? It's extremely resistant to heavy recoils and all types of weather conditions and climates.
You'll never have a foggy vision or otherwise wet mishaps thanks to the internal argon gas. You'll always have a clear view all the way out to the edges of the lens! It even comes with a protective lens to prevent scrapes and scratches.
One of the only common complaints about this scope is that the parallax is not significant after 50 yards. That means that occasionally you'll use some extra time to adjust your shot. However, Vortex put their genius to work to counteract this slight downfall.
The Dead-Hold Reticle
The Dead-Hold BDC reticle is unique to Vortex. Not only does it utilize a reticle you're probably familiar with already, but it also takes away all the guesswork. Holdover corrections and windage will never be an issue, allowing you greater accuracy and confidence.
It gets even better with windage and elevation pop-up dials. They're easy to use and have precise, audible clicks to eliminate what little worry the Dead-Hold did not smash.
The Bottom Line
Are a first-time scope user, on a budget, or sometimes too rough with your equipment? If you said "yes", this is your best scope for AR-10 training, competition, and fun. Just because it's a more simple scope does not make it less valuable.
It's built with integrity, long-lasting, and is easy to install and use to get you out on the hunt quickly. The wide magnification range also makes it useful in a number of situations. There's no going wrong on this one. It would also be a great scope for 30-06.
---
3. UTG 3-12×44 30mm Compact Scope
Check Price on Amazon
Check Price on OpticsPlanet
What do you think of when you hear the word "innovation"? Whatever it is, forget it! This UTG scope takes it to a whole new level.
Your target aiming will never be more accurate with the zero locking target turrets and zero resetting. You will never lose any settings, allowing you to focus on your target fully. For even further aid, you can use the Side Wheel Adjustable Turret (SWAT) that gives parallax range of 10 yards and way above!
The only slightest complaint is that the side focus knob is kind of tight, making it challenging to tune sometimes. Despite this tiny inconvenience, you are getting high-tech features at a very reasonable price.
One of the most impressive features, by far, is the IE reticle.
Illumination Enhancing (IE) Reticle
What is an illumination enhancing reticle? The crosshair reticle in your scope will light up for nighttime or otherwise low-light usage. Although basic IE reticles are just red, this UTG scope has 36 color modes for all environments and personal preferences.
Overall, this luminous addition and other high-tech features make it slightly heavier than other scopes. If anything, that extra weight is a testimony to its reliability and durability. Once you get a feel for it and use the several color modes, you won't want another scope!
The Bottom Line
If you are an avid outdoor hunter or work in law enforcement, this is your lifesaver! Despite your environment and situation, the IE reticle allows you to catch your target quicker and more precisely. If you are serious about your shots, mount this on your AR-10 and try it out for size!
---
4. 

Leupold VX-Freedom 3-9X40mm Riflescope
Check Price on Amazon
Check Price on OpticsPlanet
The AR-10 platform is a more focused, long-distance counterpart to the classic AR-15. For that reason, the Leupold VX-Freedom rifle scope is a great choice. It offers good range magnification settings for midrange combat distances (3-9x) and a 40 mm objective lens that features scratch-resistant coatings to ensure long-term durability.
The scope is also excellent for a variety of other reasons, including its low overall weight (1.2 pounds), waterproof and fogproof construction, and high durability all around. It's made with aircraft-grade aluminum to ensure that it will last for years to come, even when used with a potentially high recoil weapon like an AR-10.
The scope is, of course, manufactured right in the USA and it is so-called "punisher-tested" at the manufacturer's factory to ensure that it'll withstand plenty of wear and tear before being shipped out to any customers. You'll likely be able to use your AR-10 with this optic for years to come.
The scope also comes with a pair of windage and elevation adjustment turrets. These click audibly with every adjustment, which is nice, but they do lack markings indicating your current position for these adjustments. Keep this in mind if you decide to go with the scope.
Twilight Max Light Management System
The most interesting feature in the Leupold VX-Freedom by far is the Twilight Max Light Management System. It's a phenomenal system overall that allows you to benefit from about 10 minutes of extra shooting light at the beginning and end of each day. You can use this extra light to extend your hunting sessions even further or to make sure you hit your targets in a tactical situation.
Regardless, it's an advanced and high-value benefit that shouldn't be underestimated.
The Bottom Line
Leupold is well known for making high-quality scopes at every price range, and the VX-Freedom demonstrates this better than most others. Heavily consider this if you want a versatile and long-lasting scope for your AR-10. 
It would also be one of the best scopes for 6.5 Creedmoor.
---
5. Vortex Optics Viper HS-T 4-16x44mm SFP Scope

Check Price on Amazon
Check Price on OpticsPlanet
Vortex Optics joins the AR 10 optic fray with this fantastic second focal plane rifle scope. It can zoom between 4x and 16x magnification with a 40 mm objective lens, but the reticle (a VMR-1 MOA style) won't change size as you swap zoom settings. This allows you to quickly adjust for targets that move closer or further away. It's an agile, tactical-oriented scope for an AR 10 user.
The scope uses premium and multicoated lenses that provide excellent resolution and color fidelity. In addition, this scope has some of the most durable lenses you'll find on the market thanks to special Armortek coatings that prevent scratch damage from accruing over time due to dust or debris.
The scope as a whole is constructed with aircraft-grade aluminum and is argon purged and o-ring sealed. These additions mean that it works in any kind of inclement weather and is one of the more durable optics around even though it only weighs around 2 pounds.
Precise Turrets
This scope also boasts a fantastic set of target style turrets. These allow you to make repeated finger adjustable clicks without the use of tools. But they can also be adjusted with a zero-stop function that allows you to return them to zero after dialing to temporary corrections or adjustments with windage and elevation. It's easy to account for long-distance shots thanks to these phenomenal and tactile-feedback turrets.
The Bottom Line
Ultimately, we feel this is a great scope for tactical AR-10 users that need to make the most of their rifles' versatility and variable effective ranges. It has an excellent range of magnification settings so you can hit targets close up and further away. It's very close to a "one-scope-does-it-all" optic, so it's great value for money!
---
6. Steiner T5Xi 1-5x24mm Riflescope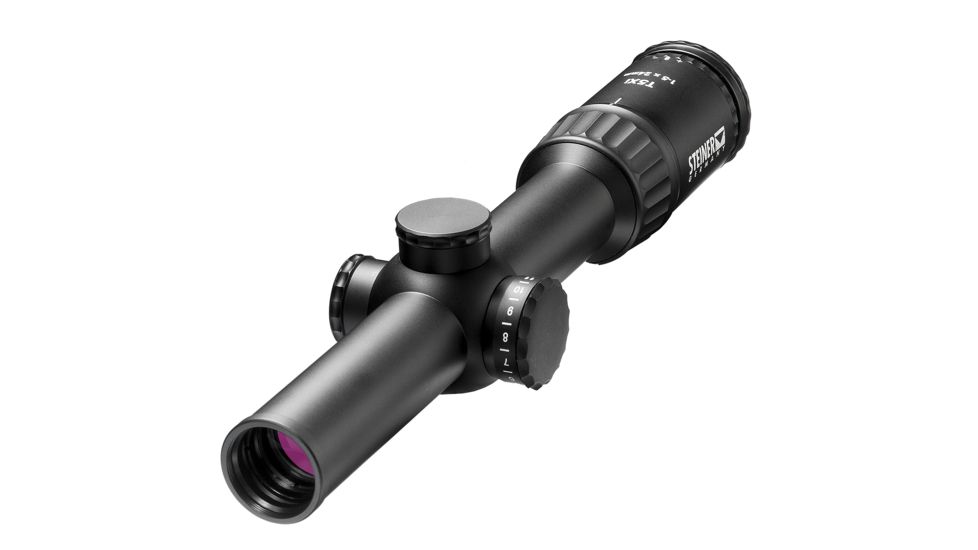 Check Price on Amazon
Check Price on OpticsPlanet
An alternative choice for an optic to pair with your AR-10 is the Steiner T5Xi, which is a compact rifle scope designed for hunting more than anything else. It's a great pick for firearm enthusiasts who have built a perfect hunting platform out of their AR-10.
The scope is designed for relatively short-range shots and is capable of magnifying between 1-5x. It also comes with a small 24 mm objective lens, marking as is a decidedly close range or tactical optic more than a long-range hunting scope.
However, don't discount its overall value. It comes with a special competition reticle that's explicitly designed for hitting targets accurately at a distance. Even better, this reticle comes with an extended illumination area, as well as additional windage and holdover lines.
Plus, you can quickly swap between magnification powers thanks to the throw lever control mounted on the optic. The scope comes with a lifetime warranty, ensuring that you'll get your money's worth if you get a defective scope shipped to your door. This is a good thing since the optic is pretty pricey compared to others on the market.
Turrets and Rotation Indicator
The most notable feature of this scope is the quality turret system and special rotation indicator. The optic comes with windage and elevation adjustment turrets that click audibly with every movement. But more importantly, the mil numbers on the scale shift automatically to stop you from losing your adjustment position.
In other words, the windage and elevation adjustment dials are quite easy to use and beginner-friendly.
The Bottom Line
All in all, the Steiner T5Xi is a perfect choice for AR-10 owners who want a compact and tactical scope to mount on their customized rifle platforms. Consider it heavily if you mostly use your AR-10 for short-range hunting or for target shooting with your friends or in competitions.
---
Wrapping up our Best Ar-10 Scope Guide
If you think you're a great shot on your favorite rifle, wait until you mount one of these sleek scopes on!
Shoot further, win that competition, and bring home that 12-point buck. There isn't anything you can't do when one of the greatest rifles pair together with the perfect scope. If you are a fan of powerful guns, you can check our m1a optics and scar 17 scopes guides.