It's been more than six decades since the AR-10 first made an appearance. Numerous iterations later and despite facing stiff competition from its successor, the widely popular AR-15, this lightweight beast still manages to catch the fancy of everybody from survivalists to hunters to homeowners looking to protect their property. 
There are good reasons for the popularity. The AR-10 is configurable, gives better control, has a less inline recoil, reduced muzzle flip, has excellent iron sights and can shoot accurately on longer ranges than its successor.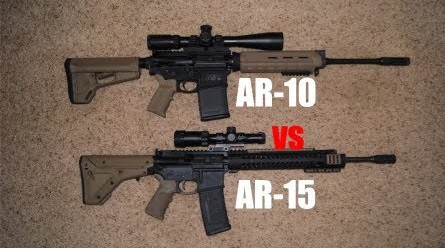 The 5 Best Scopes for AR-10
In order to shoot accurately on longer ranges, you will need the right ammo and a suitable scope for your AR-10. For that, let's look which are the best options currently on the market. Below, we have reviewed the 5 scopes which we believe are the best fit for the rifle, as there isn't just one best scope for AR-10. It all depends on the intended shooting distance and your budget. For that, the scopes we have chosen are in different price ranges, have different magnifications so that there is a high chance you can find the most suitable scope for your AR-10 on our list.
1. Nikon M-308 4-16x42mm Riflescope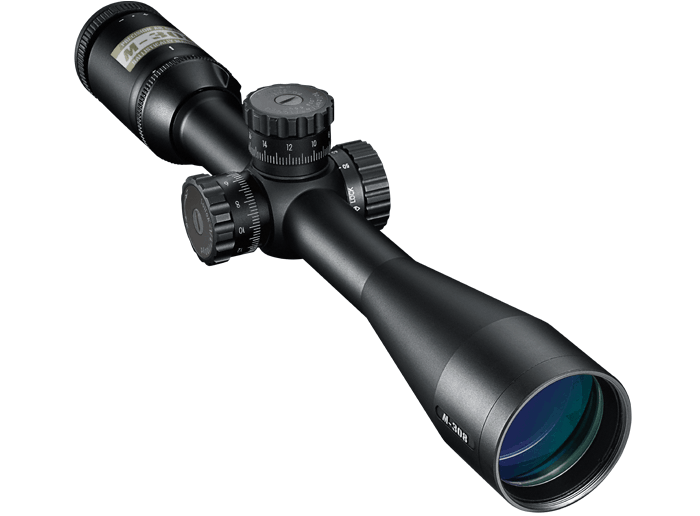 It goes without saying that the .308 remains one of the most popular cartridges for big to medium sized game hunting. So, we figured that the caliber specific Nikon M-308 riflescope would be a perfect #1 pick on this list. A perfect fit for the AR10 that a lot of shooters use.
This all-weather scope with its quick focus eyepiece gives you clear and sharp pictures irrespective the weather. Come rain or fog, it focuses in the blink of an eye.
Our review
The Nikon M-308 features a one-piece anodized aluminum body that is nitrogen filled and O-ring sealed and comes with a custom mount that allows easy elevation adjustment. The optics are borrowed from Nikon's popular Monarch line-up of scopes. The multi-coated glass allows for almost 95% light transmission even in low light situations.  
It has a 42mm objective lens and a maximum of 16x magnification which is more than sufficient when looking to shoot the .308 to the end of its downrange limit. Translated into a real-life scenario, the magnification, and the optical quality makes this the best scope for AR-10 for hunting or target shooting.
The BDC reticle with dots, hashes, and circles will keep you primed until the 800-yard range. While the subtension settings are calibrated for the Hollow Point Boat Tail ammunition, you can use Nikon's 'Spot On' mobile application to get the right configuration for the .308 or for any other ammo.
If the Bullet Drop Compensation reticle with its holdover mechanism doesn't seem comfortable enough, you can always use the standard NikoPlex reticle with the rapid action turrets for fast and accurate zeroing in.  
A constant eye relief of 4 inches keeps your brow safe from the recoil of the AR 10 while tactical styled turrets with an easy reset mechanism save time in the field.
The features we liked the most
Single tube body

Multicoated Optics

95% light transmission guaranteed

4-16x42mm

BDC reticle

Rapid action turrets
The M-308 is one of the best riflescopes for the AR-10 at this price point. It caters to both, dial-in as well as holdover shooters with its rapid action turrets and BDC reticle. Clubbed with the high magnification, this should be the scope you reach out for, in a long range hunting or tactical application. This scope would be an excellent M1a optic as well.
---
2. Vortex Optics Diamondback 4-12×40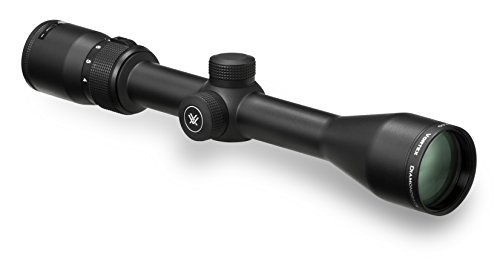 We like to call the Vortex Optics Diamondback, the elk hunters' scope because of its high magnification and 40mm objective lens which makes it just the perfect scope for the 100-400 yard range. Oh, almost forgot to ask. Hunting varmint anybody?
Naysayers might say that it's nearly not sufficient for elk hunting. But having lived our lives in Colorado, we know that most of the action happens in the 150-yard range. Coming back to the Diamondback, this is hands down the best scope for AR-10 priced around $200. We would even call it one of the best ar10 scopes overall.
Our Review
For a scope with an entry-level pricing, the Vortex Diamondback is built like a rock. Single piece aircraft-grade aluminum alloy, O-ring sealed, argon-purged and surprisingly lightweight at 14.6 ounces, this one can take a beating without as much as a blemish to show for it.
The optical quality rivals much higher priced scopes. It is multicoated with anti-reflective coatings that provide crisp and clear visuals even on a windy or foggy day. The viewing quality does not waver even at the edges, unlike cheap $100 scopes.
The Diamondback features an adjustable back optic that allows users with different configuration needs to easily adjust the scope. A quick focus system gives you meticulous precision both on crosshair as well as at longer ranges.
The reticle is a customized one which Vortex calls the Dead-Hold BDC reticle. It has a custom dotted design which simplifies shooting even at a variety of ranges.
It does have a few minor design flaws. One of them is the rigidity in the parallax at shorter distances. If you are shooting at a target closer than 25 yards, the scope becomes a tad difficult to use.
But if you are looking for a reasonably priced all-around scope, there couldn't be a better choice.
The features that we liked the most
Single piece aircraft-grade aluminum body

Dead-Hold BDC reticle

Easy reset turrets with ¼ MOA adjustments

Multicoated optics

Weather resistant

Priced under $200
The Vortex Diamondback is packed with features that make it a great scope for all types of applications. If you are strapped for cash and not looking to spend more than a couple of hundred dollars for a reliable set of glass, you've just found it.
---
3. Leupold VX-2 4-12x40mm Rifle Scope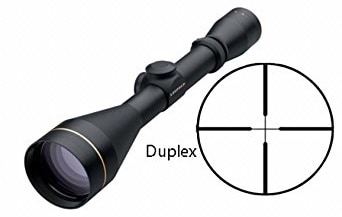 It's about time that America's favorite Golden Ring scopes made an appearance on this list, isn't it? Well, for Leupold fans, here's our #3 pick, the Leupold VX-2. This small, lightweight scope, when clubbed with the AR-10, is perfect for both varmints as well as big game hunting. One of the best AR10 optics.
Solid construction, adjustable objective and multiple reticle options, the VX-2 performs consistently across terrains and applications. As a AR 10 Scope, it gives you the precision and clarity even at the highest magnification settings.
Our review
The VX-2 is crafted from a one-piece 6061-T6 aluminum tube and is available in matt and silver finishes. If you pick the silver, you have an option of choosing the Fine Duplex reticle over the standard one. But if you pick the matte black, you can choose from German 4, Fine Duplex, Mil-Dot or Leupold Dot reticles. Else, it ships with Leopold's immensely popular duplex reticle which is a favorite with hunters around the globe.
Windage and elevation are finger adjustable at increments of 1/4 MOA and the clicks are tactile and audible. Leupold throws in aluminum caps which can be screwed on to the turrets to protect them from accidentally changing in the outdoors.
Optical quality is flawless. Leupold VF-2 features the index matched lead-free lenses that offer up to 94 transmission of light.  This clubbed with the blackened edges offers excellent clarity and contrast in the outdoors. In a hunt, this alone can make the difference between landing the buck or returning home empty-handed.
The Argon/Krypton blend purging keeps the glass free of internal fog.
The only nit that we could pick in this otherwise near-perfect package is the small mounting surface area which can make it a tad difficult while mounting on certain rifles. That's not a bone of contention when used with the AR 10 though.
The features we liked the most
Multiple finishes and reticle choices

Leupold's lifetime guarantee

Lightweight at 13 ounces

Adjustable objective for parallax from 25 yards to infinity

Solid construction

Multi-coated, edge-blackened glass

94% light transmission
With all of its features, the Leupold VX-2 rates among the best AR-10 scopes that we have on our list. 
---
4. SWFA SS 10×42 Tactical Riflescope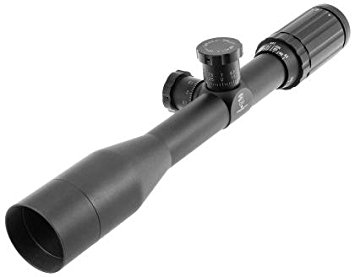 Old timers would probably recall the original Tasco Super Sniper scope (before Tasco hit a lean patch and tried to reinvent themselves as a 'budget' scope manufacturer) which was built like a tank and had good quality optics for a reasonable price.
It's now rechristened as the SWFA SS. No marks for guessing what SS stands for. Rather than trying to fiddle with what was, an excellent design, SWFA restores most of the features of the old scope and throws in a few extras, which make it, a 'value for money' addition to this list.
Our review
The SS 10X42 is quintessentially tactical fixed power scope. Single piece aluminum tube construction, black matte finish, integrated 30mm sunshade, large eyepiece and large knobs for easy grips while you are locked on to your target.
The 42mm objective lens with the 10x magnification provides excellent reliability over the long range. With all due respect to variable power scopes, hunting with a fixed power scope is addictive. If your targets are beyond the 300 yards range, then the SS 10X42 might give you the precision that you seek while hunting large game.
You have the option to pick from a side focus ring or a rear focus one. Personally, we prefer the side focus ring because it's easier to reach.
Large tactical turrets make it easy to adjust windage and elevation. The tactile response keeps you informed even if you are using protection for the ears.
There are 4 inches of eye relief to minimize the risk of scope kisses even in recoil heavy rifles like the AR 10.
Parallax adjustment starts with an extremely close 10M range and goes out to infinity. If you ever wanted to test out the scope at a closer range, then this helps you do just that. Oh, the parallax adjustment knob is positioned in place of a magnification ring in conventional scopes.
The features we liked the most
Lightweight, single tube construction
Black matte finish
Large tactical turrets
Parallax adjustment from 10M to infinity
Large eye box
4 inches of eye relief
The SWFA SS 10X42 zeroes in fast and holds true. The fixed power gives it better optical quality and the simple Mili dot reticle is one of your best bets for long range shooting. If this were a variable magnification scope, it would easily cost thrice as much.
---
5. Vortex Viper HS-T 6-24x50mm Riflescope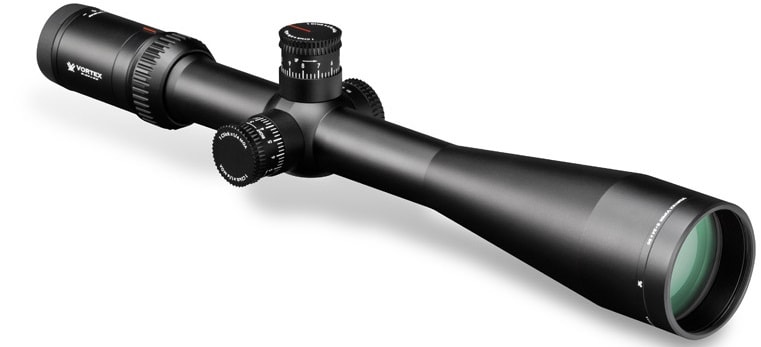 Vortex bridges the gap between their tactical PST line up of scopes and their HS hunting range of scopes with their new HS-T range. HS-T stands for Hunting Shooting Tactical.
This is the Vortex Viper HS-T 6-24X50mm that brings you the best of both worlds. It is an excellent tactical scope that can help you up your game during a hunt. When clubbed with the AR 10, it brings to the table, the reliability and precision at long ranges with crystal clear, distortion-free visuals.
Our review
The HS-T 6-24x50mm is a solidly constructed scope. It is single piece aircraft grade aluminum with a 30mm diameter with a black matte anodized finish. O-ring sealed and argon gas purged, it can tackle extreme weather conditions with ease.
With a 50mm objective lens, you'd expect the scope to be bulky. Well, Vortex doesn't disappoint. This one is a brute. It is 15.5 inches long and weighs 22.6 ounces. If you are looking to hunt coyotes or just punch paper in the field, then that won't bother you much. But if you like to lug your scope over long distances, this is going to test you.
The exposed tactical turrets with its textured finish allow easy and precise adjustments while the MRAD reticle (you can choose an MOA one too) with the matching turret adjustments (MIL/MIL) makes it a breeze to adjust on-the-fly.
Vortex's extra-low dispersion glass with the proprietary anti-reflective coating allows maximum light transmission. You'd appreciate the extra sharpness and clarity while aiming for targets in less-than-ideal light.
Features we liked the most
Solid single-piece aluminum construction
50 mm objective lens
4 inches of eye relief at 6x and 3 inches at 24x
Exposed tactical turrets with textured finish
MRAD or MOA reticle
MIL/MIL matching turrets
Extra-low dispersion glass
Reasonably priced
Barring an illuminated reticle, there's very little difference in the Vortex Viper HS-T 6-26X50mm scope, which is priced under $700 and the Viper PST which is priced above $1000. If you were looking for an excellent all-around AR 10 Scope, then this might be one of the best options you have.
---
Wrapping up our Best Ar-10 Scope Guide
These five scopes have their own advantages and limitations. Matching these with your individual shooting requirements will help you pick the best AR 10 scope. As always, we have tried to keep the list diverse by including scopes at different price points that are suited for varied shooting applications.
Irrespective of whether you are ringing steel or hunting elk with your .308 carbine, you are sure to find a decent set of glass on this list. If you are a fan of powerful rifles check Scar 17 scopes.