Some optics are best for long-distance hunting, while you can tell that others are designed for close-quarters engagements or for bolstering your accuracy in urban environments. The Burris AR332 is undoubtedly the latter, and it features several excellent design features and innovations that make it stand out from the crowd, especially as a red dot prism sight.
Below, we'll get into this optic's advantages and disadvantages in our Burris AR332 review. Let's begin!
---
Burris AR332 3x Overview
The Burris AR332 features a prism design and a red dot reticle with close-quarters and BDC marking points; this enables it to be effective both for short-distance and long-distance targeting. The illuminating capabilities of the reticle further provide accuracy enhancing benefits and give it the ability to provide excellent target tracking in low light conditions.
Illumination controls are handled via a dial, which is next to a set of windage and elevation adjustment dials that offer tactile feedback. A durable, shockproof construction and a Picatinny-style rail mount already installed at the bottom of the optic make this easy to combine with a wide variety of rifles or shotguns.
It's also fairly waterproof, so it's fine for taking into inclement weather. At 3x magnification, the AR332 is particularly suitable for typical tactical or urban engagement distances while still being worthwhile for hunting moving targets up to around 300 yards. Let's examine the AR332's features in even more detail down below.
Features:
3x magnification

Prism reticle

10 brightness settings

Picatinny rail mount
If you want to learn more about Burris, check our full Burris AR-536 prism sight review or Burris Eliminator III laser scope review. 
Reticle Type and Magnification Settings
The Burris AR332 is a prism red dot sight, which means that it is automatically a fixed magnification optic with a red dot reticle etched onto the prism by which it transmits light to an ocular lens. All prism scopes are constructed differently from scopes that use the traditional, variable magnification lens system. In exchange they get reticle durability and excellent optical clarity.
Like many Burris products, the AR332 has an excellent ballistic and close quarters reticle that affords you excellent accuracy and agility in close range engagements. But it also has bullet drop compensation hash marks that are effective out to 500 yards. This enables you to stretch the effective range of the optic even further than the 3x magnification power might suggest.
The reticle can also be illuminated, as is the case with virtually all prism-style scopes. The reticle can be swapped between either red or green colors, either of which might be preferable depending on your experience for the ambient environmental color.
Furthermore, there are 10 brightness settings you can choose between; these settings are controlled via a turret at the top of the scope. Of course, you can always settle with the standard black reticle that isn't illuminated if you need to save battery life or don't need illumination assistance in a given moment.
The lenses are multicoated to improve light transmission and enhance their durability. These "Hi-Lume" coatings will also reduce distortion at the edges of the lenses, making it a clearer optic than many others on the market.
It boasts 2.5 inches of eye relief and a 32-foot field of view at 100 yards, the latter of which is perfect for keeping track of your targets that are rapidly moving from place to place and for scanning the battlefield in the blink of an eye. All told, we're impressed by the clarity and vibrancy of the AR332's optical parts.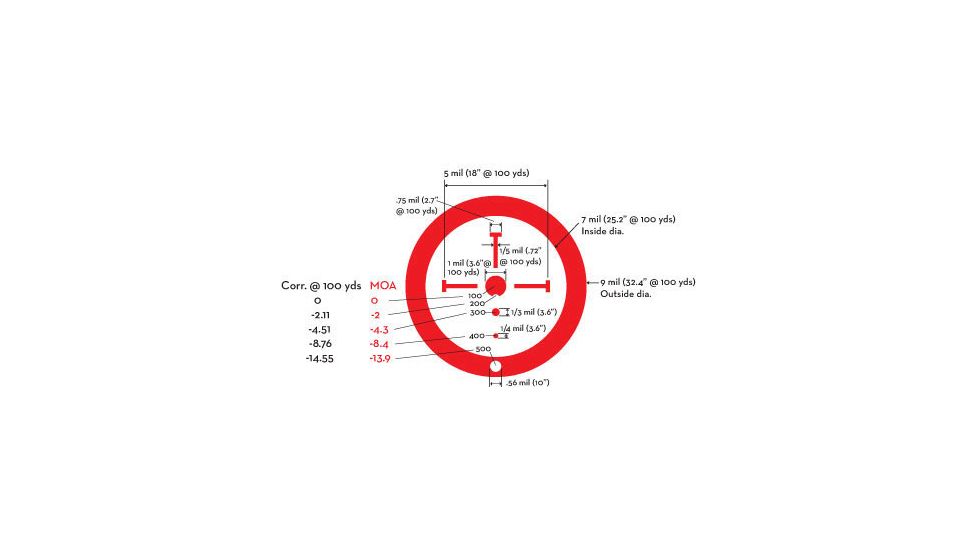 ---
Ideal Range
Due to its fixed magnification and its wide field-of-view, it's clear that the Burris AR332 is designed as a tactical optic meant for close quarters or urban combat engagements. It'll be able to help you land targets up to 500 yards into the distance thanks to its BDC hash marks, but its actual 3x magnification power is usually limited to the 300-yard range. It'll also be suitable for engagements below this value, such as 100 to 200 yards.
The close-quarters reticle style enables it to help you with accuracy at distances even lower than 100 yards, though we think this is pushing it a bit much. Remember, the scope is always zoomed in, so there's no way to zoom out if you need to take a close-range shot other than lifting your eye from the scope.
---
Windage/Elevation/Parallax
The AR332 features both windage and elevation adjustment turrets, the latter of which is positioned right next to the illumination control turret. This makes things a little cramped and compact, though this design is to be expected from most prism-style scopes.
Each turret clicks as you turn them, and each click changes their associated values by 0.5 MOA per increment. This affords you great precision when it comes to adjusting your optic's accuracy. Though they don't lock, these turrets are decently "sticky" and aren't easily jostled.
There's no parallax adjustment turret, but this condition is already accounted for with the 3x fixed prism lens.
If you are interested in our articles have a look at Vortex SPARC AR review or Sightmark Ultra Shot Plus review.
---
Mounting Options
The AR332 already comes with a mounting base that's pre-sized to fit Picatinny rails. As such, we'd recommend that you lean into this design and choose this optic only if you already plan to use a Picatinny rail on your weapon platform. The rail can't be removed from the scope, so you can't easily use this optic with rings.
The optic weighs 14.2 ounces, which is actually a little light for such a dense, compact scope. As such, it shouldn't cause too much trouble even when combined with a full Picatinny mount setup.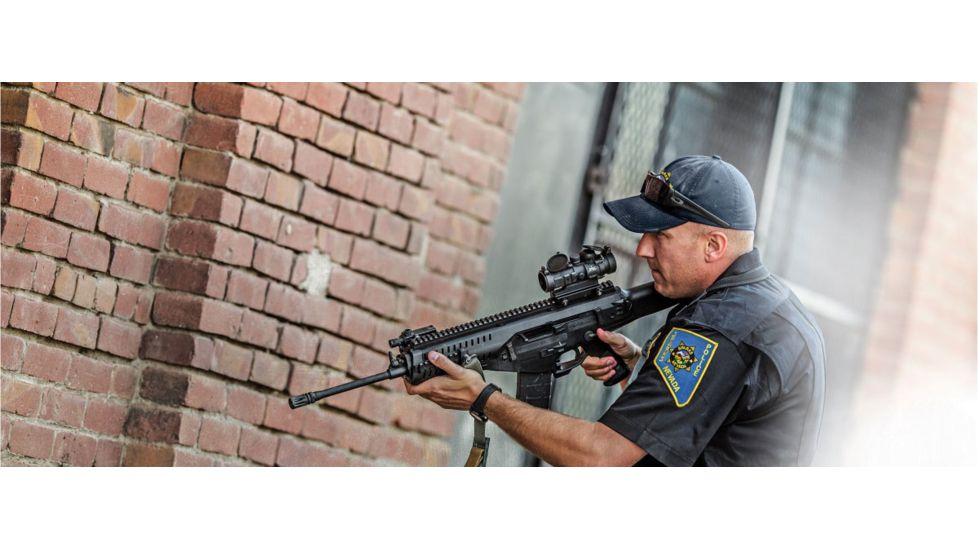 ---
Durability/Weatherproofing
The AR332 is fairly durable, with a rugged metal design and waterproof sealings to help it function adequately in inclement weather. It's not particularly fog-proof or "weatherproof", though, so we'd hesitate to recommend it for extended hunting engagements or for target practice competitions during storms. But for general use in rainy environments, it should be fine.
The metal body is durable, too, and provides great shock protection to the delicate interior components and the illuminated reticle circuitry.
---
Best for Tactical Shooting/Urban Engagements
This optic is a great choice as a tactical engagement scope to be mounted on a rifle platform. Its elevated height makes it a poor choice for combining with pistols, but it's already sized perfectly to accommodate the longer and larger build of an AR15 or M16. The Ballistic CQ sight is also perfect for urban combat engagements and for tracking quick-moving targets. Don't forget the illuminated reticle, which can provide better visibility in low light environments.
---
Drawbacks
The biggest drawback to the AR332 is the low eye relief, which measures in at 2.5 inches. This is a bit low if you plan to use this optic with high recoil weaponry, as a sudden buck of a rifle can accidentally smash the scope into your eye if you aren't careful. Still, for weapons that don't have more kick than you're ready for, the AR332 is a great choice as primary tactical sight.
---
Concluding Our Burris AR-332 3x Review
Overall, we feel that the Burris AR332 is a fantastic 3x prism optic with phenomenal construction quality and one of the most versatile reticles of its type. Few fixed magnification optics of this kind can be used particularly well for both close range and more distant engagements, yet the AR332 makes it look easy. Law enforcement officers or serious target practice shooters will both appreciate this sight.
For more of our red dot optics related content have a look at Vortex Crossfire review or Vortex Venom review.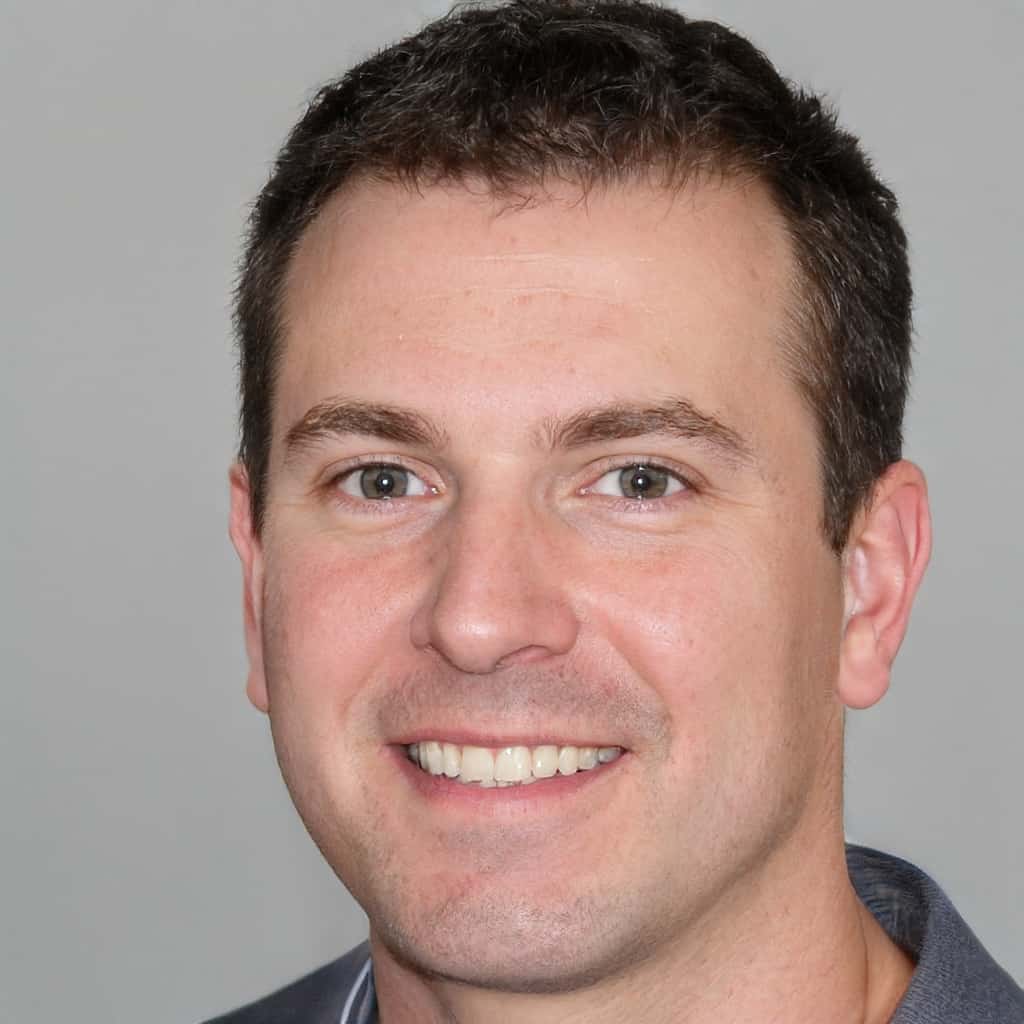 Mike Fellon was born and raised in Dallas, Texas. He inherited his hunting passions after his father John – he was fascinated by his stories, hearing how much attention, focus, dedication and patience he invested in shooting every animal. When he was old enough, his father first allowed him to shoot some cans and bottles with his shotgun, and then took him hunting – it was love at first sight. Mike has never stopped pursuing his hobby ever since.