The .22-250 is a popular round among varmint hunters. Of course, with its potential to reach 4000 feet per second this cartridge can be used for a variety of different purposes.
There are various things you need to consider when choosing the best scope for .22-250 rifle. For example, you need to consider the magnification level, for a .22-250 you generally do not anything more than a 12x as it will be an overkill. Scopes having magnification more than 12x tend to be much more expensive, so you do not need a lot of money to get a decent .22-250 scope. Even a 9x will do just fine.
There a lot of scopes offered nowadays, each with a different price and different features. If you are not sure which one will be the best for your .22-250 rifle we are here to help. We have done research and compiled a list of what we believe are the most suitable scopes for the 22.250 Remington.
The 4 Best Scopes for .22-250
Reviewed below are the four scopes which based on our research are the best ones for rifles chambered in .22.250. It is up to you to determine which is the best one for you, based on your needs and budget. They all provide excellent quality for their price. 
1. Bushnell Optics 

2-7x32mm 

Drop Zone-22 BDC Rimfire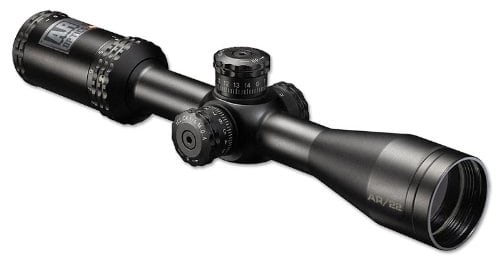 For those of you who are on the lookout for reliability and accuracy, you will find Bushnell scopes to be an excellent choice. When it comes to .22-250 rifles, Bushnell provides these qualities and much more through its Optics Zone-22 BDC Riflescope. 
Multi-Coated Lenses
Visibility can be significantly hampered in scorching sunlight as well as after sunset. To ensure that the scope delivers clarity in different lighting, Bushnell has applied multiple coating to the lens. This coatings aid in refracting and filtering out excess light or absorbing it to the maximum in case of darkness. This ensures the scope will provide you with an excellent view of your target no matter the lighting conditions, if it's not completely dark, of course. 
Lifetime Warranty
Lifetime warranty at this price point is not something you see very often. By offering such warranty for this scope Bushell shows that although it is priced under 100$ they have ensured the scope is designed well and is of excellent quality.
Good for Any Weather
When you shoot outdoors it is very important to have a scope that will not let you down if it starts raining or it is foggy.
The 2-7×32 is waterproof and won't let you down. The best scope for 22-250 for me.
Specifications
The scope is accompanied by target turrets and a Bullet Drop Reticle.

The eyepiece focuses quickly.

The target turrets have a click value of ¼ MOA.

The scope has a matte black finish.

The magnification offered is 2-7x.

The objective lens has a diameter of 32 mm.

The tube diameter is 1 inch.

The weight is 19.6 oz
2. Simmons .22 Mag Truplex Rimfire 3-9x32mm

Simmons riflescopes are known for their ruggedness and quality at an affordable price. The .22 Mag Truplex Riflescope manages to carry this legacy forward with quality performance and optimum eye relief.
Quick Target Acquisition
Once you see your prey, as a hunter, you wish to lock your aim as soon as possible. After all, how else will you ensure that you emerge victorious in your hunting expedition? Now, how would you feel if your scope failed to focus on your target quickly?
You don't need to worry about this with this Simmons riflescope. The product has a quick target acquisition eyepiece that focuses on the given target quite quickly. The fact that it offers a constant eye relief of 3.5 inches means that you will always be safe from recoil and not strain your eyes.
SureGrip Adjustments
Different situations demand different magnification needs. How easy it is to adjust a given scope governs how successful your hunting adventure will be. Well, you might be satisfied with the adjustment features of this scope. The SureGrip technology embedded in the knobs allow for easy adjustments. This holds true even for instances when you wear gloves.
One-Tube Construction
This scope is a one-tube piece which is made to last for a long time. This is ensured by the use of quality material in the construction of the scope. The lightweight of this tube also makes it easier to handle the scope. Hence, for those of you who don't wish to add to the weight of your rifle, you might want to give this scope a try.
Specifications
The scope has a magnification of 3-9x and an objective lens of 32 mm.

The field of view is 31.4/10/5.

A constant eye relief of 3.5 inches will be delivered.

The weight of the scope is 10 ounces.

It has 25 click value at 100 yards.

The adjustment range is 70.

The inner housing is water- and fog-proof.

To ensure the durability of the scope, the product is resistant to shock and recoil.
3. Vortex Optics Crossfire II 4 – 12x 40 mm AO Riflescope

Vortex Optics is known for its optic gear around the world. Its commitment to quality and convenience has been lauded by all. The Crossfire II 4 Riflescope is a personification of Vortex Optics' mission.
Durable Construction
The one-piece tube is made from aircraft-grade aluminum to ensure the robustness of the scope. The rigidity provided by this premium material allows you to rest easy knowing that the scope can withstand impact.
O-Ring Seals
This scope delivers resistance to water and dust. This feature is added to ensure that the visibility offered by the product remains intact regardless of how adverse the weather becomes. To ensure that the scope remains waterproof, O-ring seals are added to prevent the entry of moisture and dust. Therefore, you can expect this scope to remain usable in extreme rainy days as well as a sandstorm – not that we would advise you to opt for outdoor activities when such weather strikes.
Resistance Against It All
Whether it is fogproof or shockproof, this scope delivers it all. This renders the scope capable of being protected against the elements. Additionally, it lets you use the product over a wide temperature range. This is achieved via nitrogen gas purging, which aids in eliminating the trapped moisture.
Specifications
The offered magnification is 4-12x.

The objective lens diameter is 40 mm.

Offered eye relief is 3.9 inches.

The field of view is 24.7-8.4 feet.

The tube is one inch in size.

It features a capped turret that can be zeroed in.

The weight is 2.2 pounds.

The objective lens can be adjusted to provide focused images and to remove parallax removal.
4. Nikon ProStaff Rimfire with BDC Reticle 4-12x40mm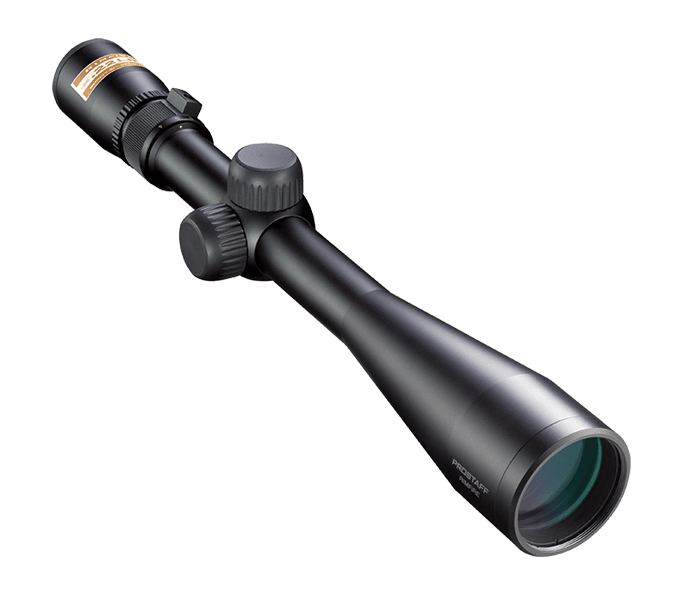 Anyone who is interested in shooting must be aware of Nikon. Nikon is an established brand that has succeeded in delivering long range accuracy and high-quality eye relief scopes. The ProStaff Rimfire is an example of this.
Consistent Eye Relief
You wouldn't want a black eye from shooting a prey, would you? Are you wondering how the two are connected? Well, imagine yourself looking through your scope from a close distance. As you pull the trigger, your weapon will recoil and so will the scope, thereby hitting you in the eye. Now, how can you avoid this horrific incident? Nikon ProStaff protects you from such recoil through a consistent and long-range eye relief.
Fully Multicoated
The optical system of Nikon ProStaff is equipped with various characteristics that allow it to offer clear and sharp images. The lenses are fully coated with multiple layers, each of which ensures that almost all the light is transmitted through the scope. Whether it is dawn or dusk, the optical system of Nikon ProStaff will be perfect for it all.
Hand-Turn Adjustments
In this Nikon scope, you can alter the settings, including magnification and focus, through its hand-turn adjustments. The knobs let you adjust with the precision of up to ¼ inches. The simplicity of the dial knob makes the scope very easy to use. An evidence of this simplicity is the inclusion of zero-reset turrets in the scope. All that you need to do to adjust the field is to mark your target, lift the adjustment load, rotate to zero and voila! You are done.
Specifications
The scope features a 50-yard parallax setting which lets you precisely hit your target if it is within 150 yards.

The nitrogen-filled housing and the O-ring seal aid in making the scope water- and fog-proof.

The magnification offered is 4-12x.

The objective lens is 40 mm.

The eye relief delivered is 3.7 inches.

The eyepiece measures 14.1 inches.

The product weighs 1.3 pounds.

The tube diameter is 1 inch.

The field of view is 11.3-33.8 feet at 100 yards.
Concluding our Best .22-250 Scope Guide
We believe that you will be satisfied with the performance of all of these scopes. While it is hard to pick one as the best scope for .22-250 rifle, we personally were fans of the Nikon ProStaff Rimfire with BDC Reticle.
This is because, compared to other scopes on the list, the field of view and magnification offered by it is much higher. Many have vouched for its longevity and its robust construction does seem to be able to withstand wear and tear, which make it a cost-effective investment.
However, this does not mean that the other three scopes will not deliver. At the end of the day, it boils down to your preferences and needs. Decide how and why you wish to use the scope and how important budget is to you. Choose accordingly.
Another popular .22 caliber rifles are the Marlin 60 and Ruger 10/22.