Like every set of glass on a firearm, which is the best scope for .22-250 is a much-debated topic. In fact, the other day, a casual banter over beer got so heated that we feared that people would draw their guns out.
Jokes apart, the .22-250 remains our personal favorite varminter and come August, we pack our bags and head to Wyoming for the annual dog hunt. The Remington 700 fires the most rounds in the days we are there followed by the Savage 110 Storm Bolt Action, which my son fancies over the old Remington. Easy reload, less recoil and as accurate as you need it to be.
The ritual has remained unchanged for the past 20 years and one of the changes over the years that we have noticed is that dogs seem to have gotten smarter, leading to longer shooting ranges. (Not kidding)
While it was not uncommon to hit a bugger under 50 yards a decade or so ago, we keep finding more shots in the 250-300 yard range these days, pressing the need for a reliable scope that does justice to the long-range caliber.
Also, dog populations are not as strong as they used to be. So expect to put some dirt road on your truck. (Hence we call it a Prairie dog hunt)
The 4 Best Scopes for .22-250
Coming back to the best scope for .22-250, we have our picks.
The biggest challenge being range estimation with reloads and the potential to get lost in the scope at high magnification, we have listed a few scopes that we believe help you tap into the long-range potential and accuracy that the .22-250 offers.
As always, we have included scopes at different price points, with varied reticles and magnification ranges. Irrespective of whether you are looking to hunt varmint at 300-400 yards or ring steel in the backyard, one of these scopes will easily fit the bill.
#1 – Nikon ProStaff Rimfire with BDC Reticle 3-9 x 40mm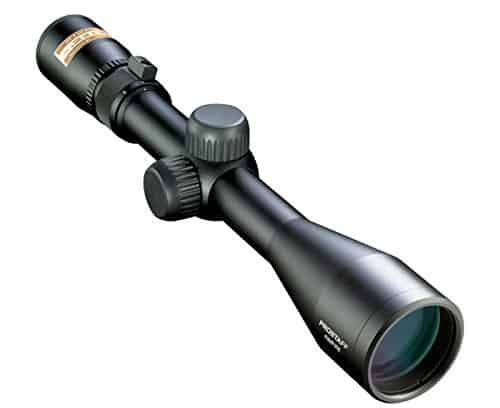 Of all the scopes in our kit, we consider the Nikon ProStaff Rimfire 3-9x40mm to be the most versatile choice for the .22-250.
It has variable magnification, is nimble enough to be carried in the field and comes with a BDC reticle which when clubbed with Nikon's Spot-On app keeps you covered, even on a windy day in the west.
We still love the good old mil-dot. But having used the BDC reticle extensively during a field trip in Africa, we found that there isn't much to separate the two for a flat shooting caliber. The differences if any are too minute to make a difference during a varmint hunt at medium shooting range.
Solid construction, matte finish
The ProStaff is a very solidly constructed scope. All aluminum body, matte black finish and capped turrets. They are not finger adjustable. But the clicks are audible and they are pretty easy to adjust. The caps are plastic though and are a hit-or-a-miss.
The optical quality is excellent. Laser sharp images even at the last few minutes of legal shooting light!
The general consensus is to pair it with a .22 LR. But we have used it for calibers up to the .308 on small and medium-sized firearms. More powerful ones can beat the bejesus out of it though.
The Reticle
For those who haven't used a BDC reticle before, the ProStaff features holdover estimation marks which are circles instead of dots. Like we said earlier, there are pro-BDC guys and BDC haters. We personally find it to be a very reliable reticle for shooting up to 600 yards (coyotes), which is also pretty much the max effective range of the 22-250 on a day with no wind or drift.
The generous 3.5-inch eye relief is another reason why we love the ProStaff RImfire.
With a parallax setting at 100 yards, you can expect some amount of blurring at shorter ranges, like 25 yards or so. And it might be a tad difficult to overcome this. But for long-range shooting, clubbed with the reticle and the fast-focus eyepiece, this one is a beast.
Our Verdict
This is the best all-around scope for the 22-250. It is inexpensive, has excellent optical quality and comes with a lifetime warranty.
#2 – Simmons 511039 3 – 9 x 32mm .22 Mag(R) Matte Black Riflescope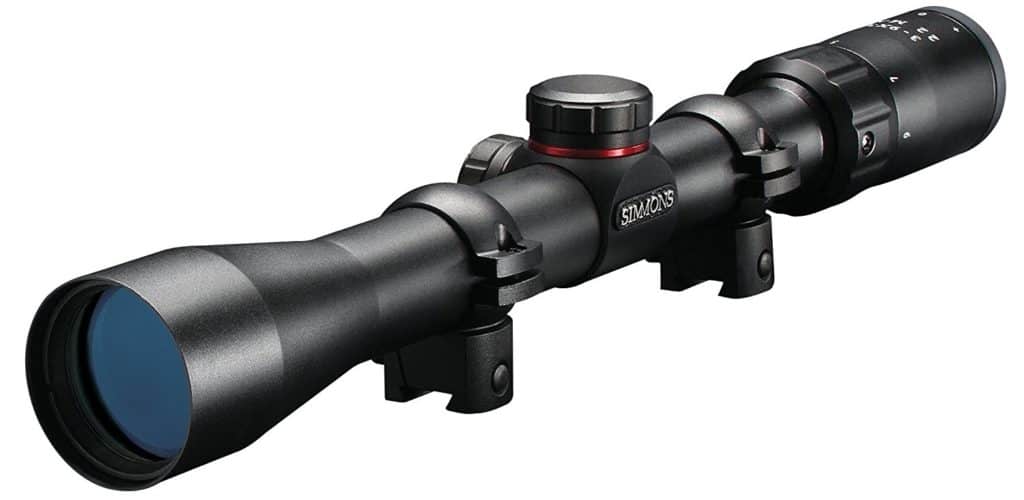 With parallax correction preset from 50 yards to infinity and an unbeatable price tag, the Simmons 3-9×32 mm rates among the best scopes for the 22-250 for a wide range of applications.
With prairie dogs, if you head up to an area where not much shooting has happened in the recent past, you can very well find these rodents at 50 yards or lesser. It always pays to have a budget-priced scope that can chime in during such situations.
Much scope for the money
We picked our Simmons 3-9x32mm in 2013 under $30 from Amazon. With a single tube aluminum construction, a Quick target acquisition (fancier name for fast focus) eyepiece and fully coated optical lenses, that's a lot of scope for the money. In fact, we can safely say that you cannot find a better scope for the 22-250 at this price point.
It features medium-height aluminum tip-off (3/8" dovetail) mounting rings making it ready to use with most .22 firearms. But the 1" tube is compatible with a whole bunch of rings that can be used to mount this on any rifle of your choice.
On the field
The Simmons features 3.75 inches of eye relief which when clubbed with the eye box makes for easy and kiss-free bench-rest and on-field shooting. The Truplex reticle remains centered at all times making it easy to aim at smaller-sized targets like dogs or rabbit.
Optical quality is not the best that we have seen. There is some amount of distortion, particularly towards the edges. Also, since the glass is not multicoated, you can expect flares on a bright and sunny day. With a 32mm objective lens, its low light capabilities are debatable as well.
But these nits are only minute and are not deal breakers by any means.
Our verdict
A budget-priced scope that can zero-in fast and at shorter ranges is always an asset in the field. The Simmons 3-9×32 is right up the alley.
#3 – Bushnell Optics Drop Zone-22 BDC Rimfire Reticle Riflescope 2-7x32mm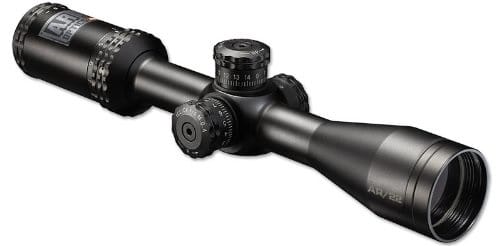 After our Pine Ridge Tactical Rimfire Riflescope kicked the bucket last year, we were searching for a suitable successor to be mounted on an old Rugger 10/22 which we picked up at a bargain sale. In came the Bushnell Rimfire 2-7×32, also known as the AR/22 Scope.
Having two scopes in the 9x zoom, we were looking for something in the 12x zoom range but we chose the 2-7×32 for the extra wide field of view at the lowest power.  After heading to the field and firing a few rounds, we couldn't be more pleased with our purchase.
On the field
We will talk about the performance first for a change. The Bushnell 2-7X32mm features a BDC reticle and large target styled turrets for windage and elevation. These are in ¼ MOA increments and it allows you to quickly zero-in according to the ammo in the rifle. We fired off the 40 grain LRN ammo first followed by the 36-grain CPHP and found that there was a difference of 6 MOA. The adjustment clicks were audible and had a clear resistance making it easy to measure.
It features a side parallax adjustment knob that is parallax adjustable all the way down to 10 yards. That's a pretty neat feature if you are shooting below 50 yards or target practicing. Inexperienced shooters struggling with large groups will appreciate that they no longer need to peer down the center at all times.
Built like a brick
Now that we have that out the way, the AR22 scope is quintessentially Bushnell. It is built like a brick and has a one-piece construction, matte black finish, ridges on the turrets and caps. It's well suited for the tactical-fans of today.
You might need high rings to ensure that the gas fill port doesn't come into contact with the rail, as it is positioned awkwardly low on the scope.
We used Burris Signature ZEE Medium Matte Rings. Worked perfectly!
The optical quality is excellent. We tested the scope at 3x and 7x zoom and at the max power at 200 yards, we could very clearly see the rabbit's fur in excellent camouflaged surroundings. The image was sharp, clear and without any distortion.
Goes without saying that we hit it in the first shot! Anyone for rabbit stew tonight?
Our Verdict
With the side parallax adjustment, the BDC reticle and excellent optical quality, the Bushnell 3-7x32mm AR22 Rimfire scope is a great pick for short to medium range shooting with the 22-250.
#4 – Nikon ProStaff Rimfire with BDC Reticle, 4-12 x 40mm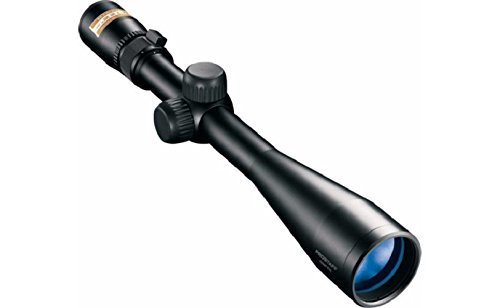 Our final pick is the Nikon ProStaff Rimfire in the other configuration 4-12×40. Now, we don't own one of these yet. But it's definitely on the wishlist. We do own the other version which we reviewed earlier in this list.
Both the Rimfires are identical to one another but this one clearly holds the edge if you are looking to test the max effective range of the 22-250. With a reliable scope like this, you can easily go beyond 700 yards if you are a skilled marksman.
We were able to borrow this for a month from a buddy and tested it out in the backyard as well as on a deer hunt. I know what you are thinking. A varmint gun on a deer hunt? Well, hear us out on how this went.
On the field
The 4-12×40 ProStaff Rimfire has a 75-yard zero followed by BDC marks for 100, 125 and 150 yards. With the Spot-On app, you can easily zero in your target according to the ammo you use. This is a second focal plane reticle by the way and when shooting at long range, you can use the corresponding see-through circles to aim whereas you use the crosshair at shorter distances.
We started off by shooting groups at 100 yards and we could easily cover it with a dime. We grouped at 200 and 300 yards and we had no problems whatsoever getting ¼" groups at that range.
Deer hunting, however, as we all know is a different ball game altogether. We spotted the buck out at 400 yards or so and were skeptical about taking the shot because it was a windy day and even with the BDC reticle, we didn't want an unclean shot. (How we missed our .308)
But the image quality was top notch as always. Hell, we could even see the mites on the deer at that range with 12x zoom.
So, we walked around for a few hundred yards before we got a cleaner shot at 150 yards or so. No problems whatsoever. The bullet hit the vitals and it wasn't an exit shot, so we could recover the slug.
We did use a 60 grain Sierra Spitzer for the deer though. Not the easiest one to stabilize but an absolute must for shooting anything bigger than varmint with the 22-250.
You might still be able to kill deer using a lighter grain ammo. But that's a risk we choose to avoid while hunting big game.
The scope is not parallax adjustable by the way. So that eliminates using the max zoom at distances shorter than 50 yards because it will be blurred. So, if you shoot at shorter range consistently, you can consider one of the other scopes in this list.
But for longer range shooting, nothing beats the Prostaff Rimfire II 4-12×40.
Our verdict
The 4-12×40 allows you to put that 22-250 firearm to good use beyond 400 yards. That's the best way to put it. You have nothing to worry at all about the construction or the optical quality which we covered in our earlier review.
At this price point, there is no better choice for long range shooting with the 22-250.
To sum it up
Depending on whether you use your .22-250 rifles for varmint hunting like the most of us or just for benchrest shooting, one of these scopes will certainly tick the boxes that one aims for.
You can also check which are the best scopes for Ruger 10/22 and Marlin 60. Or if you are looking for something more powerful, check which are the best .308 scopes
These are our favorites because we have been using these for a couple of years at least. We would love to hear your two cents or additions to this list of the best scopes for 22-250. See you in the comments section.