The Ruger Mini 14 has been popular for a lot of years and rightly so. It is reasonably priced for what it offers, requires low maintenance and is very durable. Mini 14 rifles might not be ideal for long-range shooting(600-1000+ yards)but their accuracy can be vastly improved with a simple addition – a scope. With the right scope and having the right skills, you should be able to hit a man-sized target at up to 500 yards.
Finding the best mini 14 scope is not easy nowadays as there are so much offers out there. It can get confusing, especially if you don't have enough knowledge on the subject.

But do not worry, I am here to help you out. On this page, I will review my 6 favorite scopes for the mini 14. Each one of the six deserves to be called the best scope for mini 14 ranch rifle. They are not only suitable for the ranch version of the mini 14 though, but for all versions out there. All of these scopes have what it takes to provide you with the perfect magnification for every situation.
Best Scope for Mini 14 – How to Choose
Some are designed for short to medium range shooting, while some can be used for longer ranges too – 500 yards or so. So have this in mind when choosing the scope for your mini 14 rifles. There isn't just one 'best for all' scope, it is all up to what you need.
For that, I am reviewing different options, with different magnifications, for different purposes. If you are unsure how to read some of the specification on the scopes or what kind of magnification you need you can check this guide. The first 3 scopes in the list are my top favorites because they provide excellent quality for their price and have .223 caliber specific reticle, which is a feature I like. It is up to you to decide which the most suitable one for you is.
1. 

Bushnell Optics Drop Zone-223 3-9x40mm
For almost seventy years, Bushnell has been synonymous with the American meaning of quality. I really believe that American hunting gear is one of the best on the planet, which is why I would recommend any rifle scope made by Bushnell.
This optics manufacturer is a well-known name among hunters, for a good reason, because they provide top class optics. This scope is not an exception, in fact, it is considered to be one of the best on the market for its price.
With its 3-9x magnification and 40mm lens, this scope has pretty much you covered in every situation you may want to use it. The 9x magnification is enough for up to 600 yards – more than the full potential of the mini 14.
The visibility it provides is also perfect not only because of the 40mm lens it has. Another great feature of the scope is, that it is made of highly durable materials and should last for a long time. Produced by an American company with a long tradition, at a very affordable price, this is an excellent choice for a Ruger mini 14.
Fully Multi-Coated Optics
The scope not only offers a 40mm lens, the lenses are multi-coated as well. That will ensure the Bushell will provide you with enough brightness even in low-light conditions.
BDC Reticle calibrated for 

223 REM/5.556 loads
This is one of the features which make this scope an excellent choice for a Mini 14. As the reticle is specifically designed for the .223 caliber, you will find it a great fit for the Ruger mini 14 and other .223 caliber rifles. This scope is an excellent choice at an affordable price. I truly believe there isn't a better choice in this price range. If you are willing to spend a bit more, check the 2nd and 3rd scope on my list.
100% waterproof
The scope was nitrogen-purged in order to ensure that no moisture will ever appear inside the scope. What this means is that you can forget about the weather. When it comes to this rifle scope, there is no such thing as unfavorable weather which is excellent if you like to shoot outdoors. No matter the forecast, you never know.
Not only it is waterproof but it is basically scratchproof, rustproof and dustproof as well. Overall, an excellent choice which will serve you for years to come. The best scope for mini 14 for the price for me.
Why I like this scope
Features target turrets
BDC reticle designed for 

223 REM

Comes with the side focus parallax adjustment
O-ring sealed and nitrogen-purged to ensure moisture won't create any problems
Affordable price
Made by a reliable American company
---
2. Nikon P-223 3-9×40 Mate BDC 600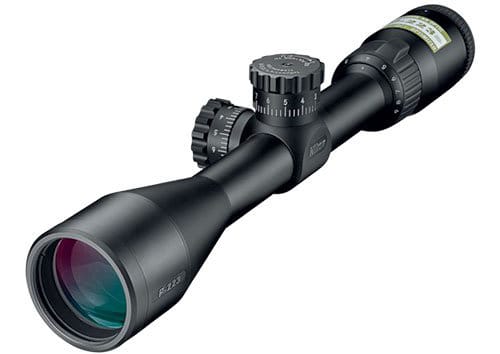 Nikon is one of the best optics brands on the planet and this is one of the best scopes they have in their range. The P-223 3-9×40 Mate BDC 600 has all the features you may wish for, which makes it an ideal choice for shooting on different ranges with the mini 14 rifle.
Superb eye relief
While the mini 14 itself doesn't have any serious recoil, this is always a nice feature to have. It will come real handy if you ever put the scope on bigger calibers tending to have a bigger kickback.
No matter the recoil, if you are from the people who like the scopes to have generous eye relief, you will like this one.
Lifetime Warranty
You know Nikon mean business when they are offering such warranty. Obviously, they are confident enough in the construction of the scope and indeed it is excellent, sturdy and can be used for a lot of years to come.
Good for All-Weather Conditions
The rifle scope is O-ring sealed and filled with nitrogen. That ensures that is is water and fog proof.
You will not be disappointed even if the weather is bad, as there's no way moisture can get inside the P-223.
Practical features
Aiming with a mini 14 rifle that has this scope attached is a child's game. It's because the scope features the BDC 600 reticle, which is designed specifically for the trajectory of .223 round plus the great light transmission the scope has.
Furthermore, there are also the hash marks, marking from 100 to 600 yards. The scope also features the zero-reset turrets-positive click reticle adjustments, meaning that getting "zeroed in" is going to be very easy and fast.
Why I like the Nikon
Reticle specifically designed for 

.223 Rem /5.56 NATO

Made by Nikon, a highly respectable optics manufacturer
98% light transmission
Features the BDC 600 reticle
Easy to "zero in"
Waterproof
Do you like rifles produced by Ruger? Check which are the best scopes for Ruger 10/22
---
3. 

Nikon P-223 3×32 Matte BDC Carbine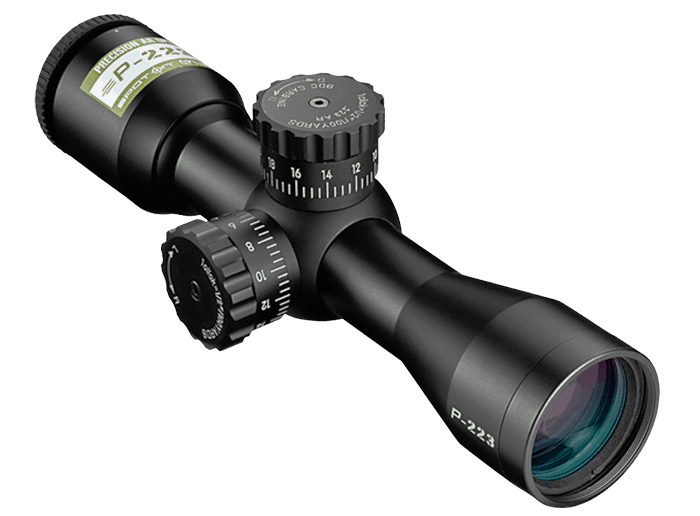 Another Nikon from the P-223 series. Some of you may think I am biased, but that is not the case, it is just their scopes are that good and in this case suitable for the mini 14 and actually any other .223 rifle.
Fixed Magnification
Many may actually think this is a disadvantage, but I tend to differ. Riflescopes and camera lenses have a lot of things in common, one of them being that a fixed optic is always better than a variable one. "Better" in of terms sturdiness of the construction and the overall clarity of the image you see.
Of course, fixed magnification has it's limitations too, so if you tend to use mini 14 on different distances every time, this might not be the best choice.
Made for Outdoors
If you tend to use your mini 14 outdoors, you will be glad to find that this scope can take anything mother nature throws at it. It is O-ring sealed and nitrogen filled meaning it is waterproof but and fog proof. Shooting outdoors these are features sooner or later you will be glad to have.
Great Brightness
Thanks to the fixed magnification and the fully multicoated lenses the Nikon will provide you with enough brightness even when there isn't a generous amount of light available. It actually transmits 98% of the light available making it excellent for low-light conditions.
Holds Zero
The scope doesn't have any problem holding it's zero even with repeated recoil. Not only that but it's extremely easy to zero in thanks to the design of the scope.
It is one of the best scopes for mini 14 out there without a doubt.
Why I like this fixed scope
Transmits a generous amount of light(98%)
Usable in all-weather conditions
Fast adjustments
Lifetime warranty
---
4. Vortex Optics Crossfire II 2-7×32 Rifle Scope
Here's another riflescope manufactured by an American company. Although not having decades-long history to back it, Vortex Optics is definitely one of the most respectable manufacturers of optical equipment.
The company is best known for making high-quality binoculars, monoculars, tripods, but it also makes great rifle scopes. If you're looking for a scope for your mini 14 ranch rifle, you should definitely take a look at what Vortex Optics has to offer.
One of the better scopes that Vortex has on their range is the Crossfire II 2-7×32. It is an excellent choice if you are intending to shoot with you Ruger mini 14 on short to medium distances. Although for that price, I would recommend you the Bushell
Anti-reflection coatings
This rifle scope has several different coatings, all of which have anti-reflective properties. That helps to ensure a perfect image in varying light conditions, but this is just the beginning.
The scope also features a reticle scale that will remain the same, even when you increase the magnification to the maximum. You will still be able to clearly see the estimated range, wind drift correction, holdover, etc.
Aircraft-grade aluminum makes it lightweight, yet sturdy
When it comes to the material the case of this scope is made of, it's aircraft-grade aluminum. This is important to mention because this kind of aluminum is strong and durable while having anti-corrosion properties.
The scope is O-ring sealed as well which makes it waterproof. You have nothing to worry about going to hunt if it's raining or snowing outside.
All from the fact that it was designed to provide a perfect sight picture to the fact that it's made of high-quality materials make the Vortex a good scope for Ruger mini 14 ranch rifle.
The vortex is not intended for use on longer ranges though. If that's what you need, perhaps it's best to take a look at the next rifle scope on the list.
Why I like Vortex Optics Crossfire II 2-7×32 Rifle Scope
Multi-coated with anti-reflection coatings
Perfectly sized reticle scale
Made of high-class materials
Designed and manufactured by a respectable American company
Reasonable price
---
5. Nikon ProStaff 4-12×40 Black Matte Riflescope (BDC)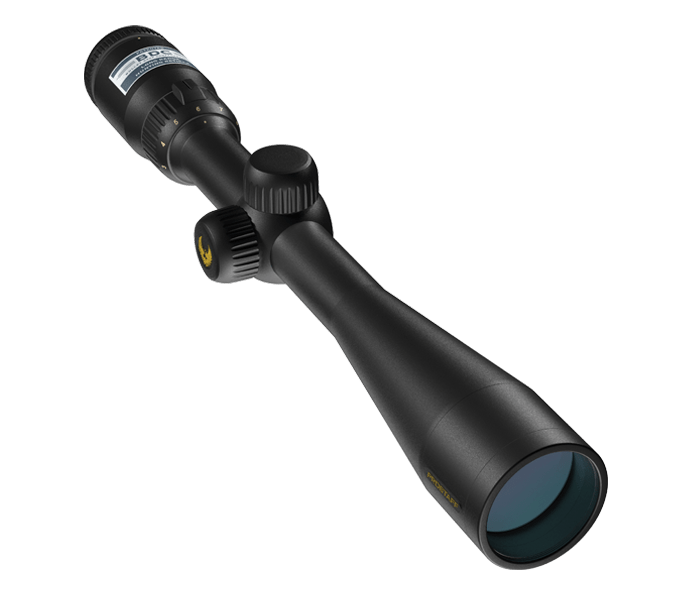 Here' another scope made by Nikon, which is not a surprise given the fact that this company is one of the leaders in the world of optics. This particular model deserves to be called the best mini 14 scope for a number of reasons.
First of all, it's designed to be able to provide you with a nice clear view even on longer ranges. Apart from that, it's made of highly durable and lightweight materials, which means that this scope is guaranteed to serve you well for a long time. On top of everything, it's also great for many useful features it comes with, some of them being listed below.
Superb lens providing great visibility
The fact that this rifle scope features the 40mm lens and 4-12x magnification means that you can use it for up to 500 yards, the full capability of the Ruger mini 14.
The scope is multi-coated, meaning that it comes with several anti-reflection coatings. This means that the scope will provide you with a clear image, no matter the weather conditions. Speaking of the weather, the scope is made of aluminum, it is sealed as well making it waterproof.
Other practical features
Other features of this rifle scope that are worth mentioning include a consistent eye relief, reticle adjusting system and a zero-reset turret making adjusting fast and easy. With so many amazing features, this scope for a mini 14 rifle seems a great choice, but its price is not so great. In fact, this scope is the most expensive item on my list.
Still, for the features it provides, it is not actually that expensive at all. It would also make a great choice for other rifles as well like the AR-15.
It seems perfect for a number of reasons. Actually, I can't find a bad thing about this rifle scope, apart from the price that it costs a bit more than other scopes on the list.
Why I like Nikon ProStaff 4-12 x 40 Black Matte Riflescope (BDC)
4-12x magnification
Multi-coated scope
Made of high-quality, waterproof aluminum
Superb eye relief
98% light transmission
---
6. 

Nikon ProStaff 2-7×32 Black Matte Riflescope (Nikoplex)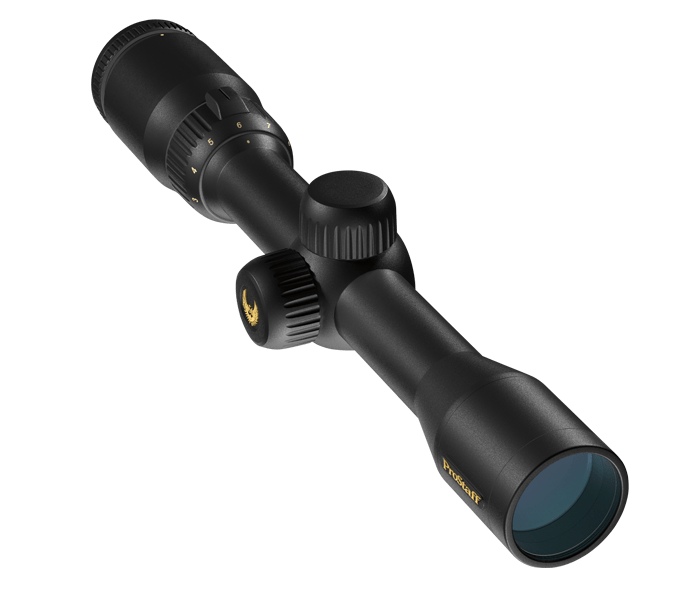 If you want to use your Ruger mini 14 rifle for shooting on short to medium distances, buying a Nikon scope is the right thing to do. The Nikon ProStaff 2-7×32 is perfect for mini 14 rifles. It can also be a great scope for muzzleloader as well.
Practical Features
The first thing that you'll notice about this rifle scope is that it is very easy to sight in. It won't take too much time to adjust it, although to save yourself the trouble, I recommend doing laser sighting, but do it your favorite way.
Another great thing about this scope is that it comes with a Nikoplex reticle which helps for faster identification of a target.
The lens of the scope is 32 millimeters, while you can zoom two to seven times. I suggest not using the maximum magnification, as it won't be easy to focus.
The feature that makes Nikon ProStaff one of my favorite scopes for mini 14 rifles is the fact that it transmits 98 percent of available light.
What this means is that it will provide you with a flawless vision of what's going on in front of you in varying conditions some of them being not so favorable.
Affordable scope for short-range shooting
For a relatively affordable price, you will get a superb scope manufactured by one of the most reliable brands on the planet. This rifle scope can create the difference in your shooting performance on short and medium ranges. If you need something for long-range shooting, better look on some of the above suggestions.
Why I like Nikon ProStaff 2-7 x 32Riflescope
Superb light transmission
Easy to set up
Tough, durable, and waterproof
Relatively cheap
The Vortex Optics Diamondback 4-12×40 can also be a great fit for the mini 14. You can check my detailed review of this scope here
Final note
Finding the best scope for a mini 14 rifle is not an easy job, especially because most of the online sources are focused on promoting a certain brand. If you decide to stay away from promotional articles and try to see what real hunters have to say from their experience, you will probably find yourself in the mid of a meaningless debate, as some people just like a certain brand and refuse to look elsewhere.
For me, there are no better scopes than the ones mentioned above. It is up to you to decide which one fits your needs best and will be the best scope for your mini 14 rifle.
If you are fan of Ar-10, you may find the best Ar-10 scopes interesting.