The Ruger Mini 14 has been popular for a lot of years. Mini 14 rifles might not be ideal for long-range shooting, but their accuracy can be vastly improved with a simple addition – a scope. In fact, an excellent scope can make the difference between a successful hunt/shooting session and a total disaster.
Unfortunately, finding the best mini 14 scopes is not going to be easy, especially if you don't have enough knowledge on the subject.

But do not worry, I am here to help you out and will give you concrete suggestions. On this page, I will review my 6 favorite scopes for the mini 14. Each one of the six deserves to be called the best scope for mini 14 ranch rifle. All of these scopes have what it takes to provide you with the perfect magnification for every situation.
Best Scope for Mini 14 – How to Choose
Some are designed for short or medium range shooting, while some can be used for long range shooting. So have this in mind when choosing the scope for your mini 14 rifle. There isn't just one 'best for all' scope, it is all up to what you need. For that, I am reviewing different options, with different magnifications, for different purposes. If you are unsure how to read some of the specification on the scopes or what kind of magnification you need you can check our guide.
1. Bushnell AR Optics 2-7×32 Drop Zone-22 BDC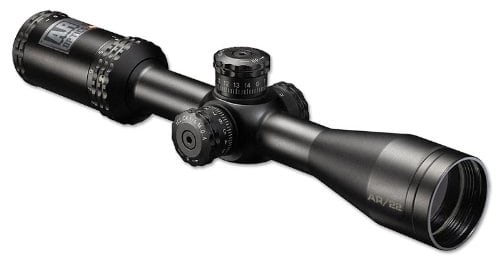 For almost seventy years, Bushnell has been synonymous with the American meaning of quality. I really believe that American hunting gear is the best on the planet, which is why I would recommend any rifle scope made by Bushnell.
This optics manufacturer is a well-known name among hunters, rightly so, because they provide top class optics. This scope is not an exception, in fact, it is considered to be one of the best on the market for its price.
There are many reasons for this claim, not all of which are specifically related to the visibility it provides, which is perfect. Another great feature of the scope is, that it is made of highly durable materials and should last a long time. Produced by an American company with a long tradition. On top of that, this is one of the most affordable scopes you can find, considering the quality.
Super-precise adjusting
You can use the side parallax focus for precise adjustments, with the help of target turrets.
Actually, this is one of the most important things about this scope. Another feature that guarantees super precise shooting is the caliber-specific reticle.
100% waterproof
The scope was nitrogen-purged in order to ensure that no moisture will ever appear inside the scope. What this means is that you can forget about the weather. When it comes to this rifle scope, there is no such thing as unfavorable weather.
The fact that this rifle scope was manufactured by Bushnell should be enough of a recommendation for you to get it. Furthermore, the features of this rifle scope make it a superb choice. You surely won't regret buying it, especially considering the price tag.
Why I like this scope
Features target turrets
Comes with the side focus parallax adjustment
O-ring sealed and nitrogen-purged to ensure moisture won't create any problems
Affordable price
Made by a reliable American company
2. Nikon P-223 3-9×40 Mate BDC 600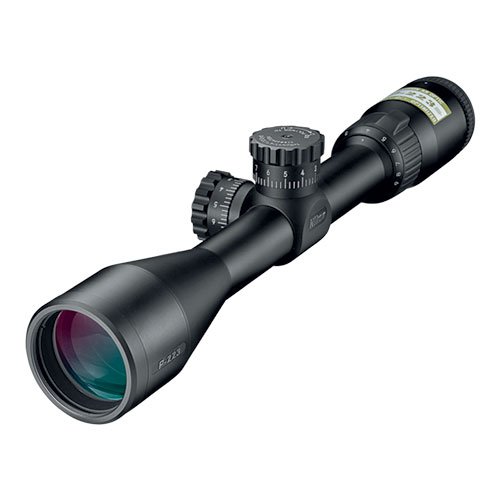 Nikon is one of the best optics brands on the planet and this is one of the best scopes they have on their range. The P-223 3-9×40 Mate BDC 600 has all the features you may wish for, which makes it an ideal choice for mid-range shooting with the mini 14 rifle.
Superb eye relief
Mid-distance shooting usually involves the use of heavy recoiling cartridges. What this means is that unless you have a good rifle scope, you might end up with a bloody eyebrow. This is where Nikon P-223 3-9×40 Mate BDC 600 steps in with its impressive eye relief.
But, apart from keeping your brows safe, this scope is great for a number of other reasons. It's designed and manufactured by one of the most famous optics companies, which is a guarantee that it will last for a long time. If you're still not convinced, we urge you to take a look at the features of this rifle scope.
Practical features
Aiming with a mini 14 rifle that has this scope attached is a child's game. It's because the scope features the BDC 600 reticle, which will provide you with an open circle with aiming points.
Furthermore, there are also the hash marks, marking from 100 to 600 yards. The scope also features the zero-reset turrets-positive click reticle, meaning that getting "zeroed in" is going to be very easy.
The rifle scope is O-ring sealed and filled with nitrogen. This is crucial if you plan to use the scope in all weather conditions.
This scope will not disappoint you even if the fog is strong, as there's no way the moisture can get inside.
Why I like Nikon P-223 3-9×40 Mate BDC 600
Long-range rifle scope
Made by Nikon, a highly respectable optics manufacturer
Features the BDC 600 reticle
Easy to "zero in"
Waterproof
Do you like rifles produced by Ruger? Check which are the best scopes for Ruger 10/22
3. Vortex Optics Crossfire II 2-7×32 Rifle Scope
Here's another riflescope manufactured by an American company. Although not having decades-long history to back it, Vortex Optics is definitely one of the most respectable manufacturers of optical equipment.
The company is best known for making high-quality binoculars, monoculars, tripods, but also the scopes for hunting rifles. If you're looking for a scope for your mini 14 ranch rifle, you should definitely take a look at what Vortex Optics has to offer.
One of the best scopes in the offer of Vortex Optics is the Crossfire II 2-7×32 Rifle Scope. If you mount it onto your mini 14 rifle, you will make it way more precise. Of course, we're talking about short to a medium-distance shooting.
Anti-reflection coatings
This rifle scope features several different coatings, all of which have anti-reflective properties. This is something that will provide you with a perfect vision, but this is just the beginning.
The scope also features the reticle scale that will remain the same, even when you increase the magnification to the maximum. You will still be able to clearly see the estimated range, wind drift correction, holdover, etc.
Aircraft-grade aluminum makes it lightweight, yet sturdy
When it comes to the material the case of this scope is made of, it's aircraft-grade aluminum. Why is this important to mention is that this kind of aluminum is strong and durable while having anti-corrosion properties.
This means that the scope is waterproof. So that you have nothing to worry about going to hunt if it's raining or snowing outside.
Everything seems great about this scope for Ruger mini 14 ranch rifle, from the fact that it was designed to provide a perfect sight picture to the fact that it's made of high-quality materials.
With all of this in mind, it seems as the best scope for mini 14. However, you should know that you can't expect it to serve you too well for long-range shooting. If that's what you need, perhaps it's best to take a look at the next two rifle scopes on our list.
Why I like Vortex Optics Crossfire II 2-7×32 Rifle Scope
Multi-coated with anti-reflection coatings
Perfectly sized reticle scale
Made of high-class materials
Designed and manufactured by a respectable American company
Reasonable price
4. Nikon ProStaff 4-12×40 Black Matte Riflescope (BDC)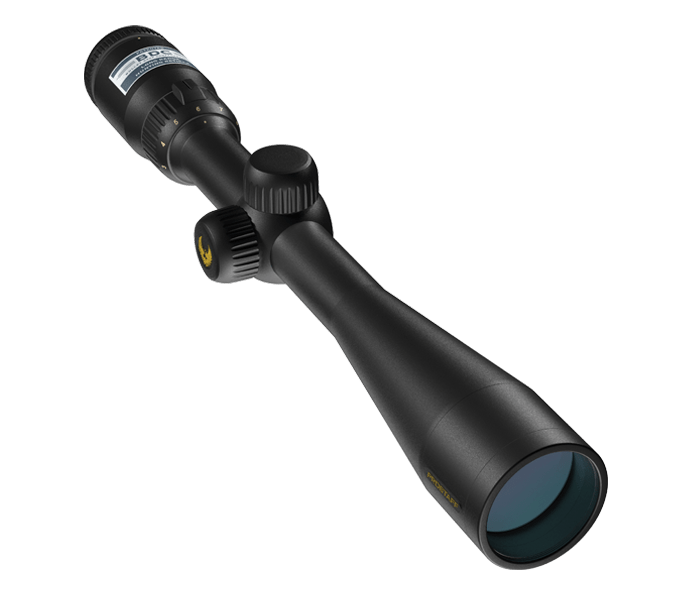 Here' another scope made by Nikon, which is not a surprise given the fact that this company is one of the leaders in the world of optics. This particular model deserves to be called the best mini 14 scope for a number of reasons.
First of all, it's designed to be able to provide you with a nice picture. Apart from that, it's made of highly durable and very strong materials, which means that this scope is guaranteed to serve you well for a long time. On top of everything, it's also great for many useful features it comes with.
Superb lens provides great visibility
The fact that this rifle scope features the 40mm lens and 4-12 magnification means that you can use it for mid-range shooting.
The scope is multi-coated, meaning that it comes with several anti-reflection coatings. This means that the scope will provide you with a clear image, regarding of the weather conditions. Speaking of the weather, the scope is made of aluminum, which is a waterproof material.
Other practical features
Other features of this rifle scope that are worth mentioning include a consistent eye relief, reticle adjusting system and a zero-reset turret, and so on. With so many amazing features, this scope for a mini 14 rifle seems a great choice, but its price is not so great. In fact, this scope is the most expensive item on my list.
Still, if you're a true hunting aficionado, you won't feel sorry for paying about 200 dollars for such a superb rifle scope. If long-distance shooting with your mini 14 rifle is your passion, you shouldn't think twice about whether to get this scope or not.
It seems perfect for a number of reasons. Actually, we can't find a bad thing about this rifle scope, apart from the price that it costs a bit more than other scopes on our list.
Why I like Nikon ProStaff 4-12 x 40 Black Matte Riflescope (BDC)
4-12 magnification
Multi-coated scope
Made of high-quality, waterproof aluminum
Superb eye relief
98% light transmission
5. 

Nikon ProStaff 2-7×32 Black Matte Riflescope (Nikoplex)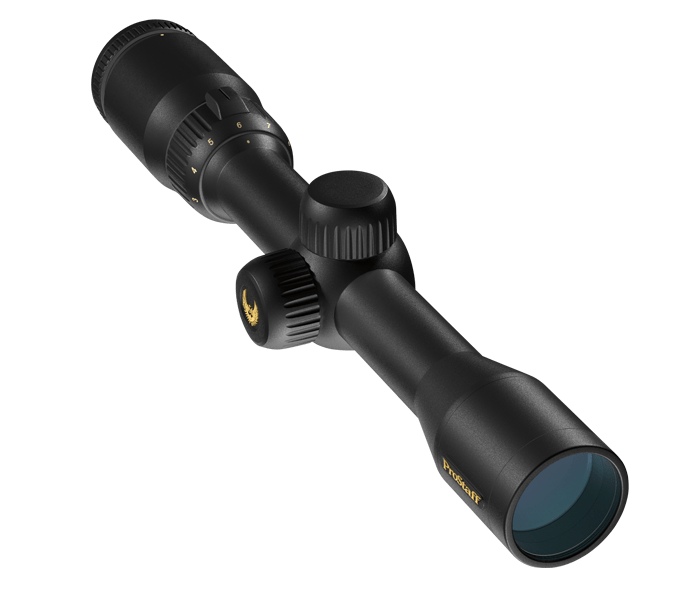 If you want to make your Ruger mini 14 rifle a super weapon for hunting from a medium distance, buying a Nikon scope is the right thing to do. But, not every scope made by this manufacturer is going to do the work right. You need one that's perfect for mini 14 rifles. Such scope is the Nikon ProStaff 2-7 x 32!
Practical Features
The fist thing that you'll notice about this rifle scope is that it is very easy to sight in. It won't take too much time to adjust it, although to save yourself the trouble, we recommend doing laser sighting.
Another great thing about it is that this scope comes with the Nikoplex reticle, which makes it a true quick-focus eyepiece.
The lens of the scope is 32 millimeters, while you can zoom two to seven times. Still, we suggest not using the maximum magnification, as it won't be easy to focus. Still, a medium zoom is going to be more than enough for you for short and medium distance shooting.
The feature that makes Nikon ProStaff one of my favorite scopes for mini 14 rifles is the fact that it transmits 98 percent of available light.
What this means is that it will provide you with a flawless vision of what's going on in front of you at a distance of about 100 yards.
Affordable scope for short-range shooting
For a relatively affordable price, you will get a superb scope manufactured by one of the most reliable brands on the planet. This rifle scope can create a lot of difference in your shooting performance in short and medium range. Still, if you need something for long-range shooting, better look elsewhere.
Why I like Nikon ProStaff 2-7 x 32Riflescope
Superb light transmission
Easy to set up
Tough, durable, and waterproof
Relatively cheap
6. 

Vortex Optics Diamondback 4-12×40 Dead-Hold BDC Reticle
Another great fit for your mini 14. You can check my detailed review on this scope here
Final note
Finding the best scope for a mini 14 rifle is not an easy job, especially because most the online sources are focused on promoting a certain brand. If you decide to stay away from promotional articles and try to see what real hunters have to say from their experience, you will probably find yourself in the mid of a debate on which scope is the best.
Furthermore, such discussions often change direction and turn into arguments about whether you should've bought the mini 14 in the first place. So, I advise you to stay away from such websites and make your decision based on the knowledge from this article.
For me, there are no better scopes than the ones mentioned above. It is up to you to decide which one fits your needs best and will be the best scope for your mini 14 rifle.
If by any chance you have a .17 HMR rifle, you may find interesting best scopes for .17 HMR rifles