The AK 47 was first introduced in the Soviet army in early 1948. Since that time, it has been used by a considerable majority of the world as a favored form of the assault rifle. That is over 50 years that the gun has been out on the market and successfully into the field.
Legal semi-automatic versions of the weapon are made relatively inexpensive. But, the AK 47 at its full automatic potential is not available freely for civilian use. While harder to obtain, there are many well-known reasons as to why this weapon is loved.
Very effective at medium-ranged combat.

Fully automated gun.

Compact gun.

Selective fire.

Ease of use.
This gun is locked, loaded, and ready to go with enough room for any preferred modifications customers wish to add. The most significant addition that users like to add on the rifle is a scope. This small modification assists in creating a huge impact is due to the AK 47's range capabilities.
Bumping Up Your Range: Getting the Most Out of Your AK 47
From the get-go, the AK 47 can remain exceptionally steady at around a four-inch group. Over the time of the shot, however, is when the accuracy begins to drop. The bullets will spread out to an almost six-inch group while at 100 yards. But is there some way to make this accuracy of the AK 47 rifle better than it currently is?
The most straightforward fix to adjust with your weapon is to increase any distance that you have between the rear end of the gun and the front iron sight. This difference in the adjustments will help assist you with your aim. The weapon has a 100 yard to 800 yards room for adjustment.
Going The Distance: How Far Will The Weapon Shoot?
A standard AK 47 has an overall barrel length of around 35 inches. This length is about the average size of an assult rifle.
Medium Range: 380 – 630 yards
Close Range: Up to 380 yards
The most effective length of firing range for the AK 47 is around 380 yards. The AK 47 as an automatic weapon was developed with close-range combat in mind.
However, the use of the weapon's functionality does not have to end there. AK 47 is a highly durable and functional gun with a lot of unexpected perks. Adding a scope to the firearm can significantly increase this gun's usability.
What Type Of Scope Magnification Is Necessary?
The simple answer is that the farther you wish to shoot, the more magnification of a scope that you will need. Different types of lenses will give the user to see through the scope differently.
As far as what scope to get, it honestly depends on your personal preference. However, here are some of our suggestions based on the measurement of ranges.
Anything in this range is going to need a 10x power; it is as simple as that. Short burst firing at this distance with a scope can help you get close to the general area of where you need to shoot. This is true even though AK 47's aren't optimized for this distance.
Medium Range: (380 – 630 yards)
This middle range works well for most skill levels with a scope. It helps you to remain a distance where you can still conceal yourself from the desired target. When at this range, we recommend a magnification between a 6 – 9x power.
Close Range combat is an AK 47 rifle's true calling. Close range shooting can even be made even more efficient with a scope attachment. A 1 – 5x power magnification will help you to focus in on your target without obstructing your vision.
The best possible scope available on the market for an AK 47 will be able to span at least two of these ranges. Whether you prefer to shoot at a close-range or looking at the long game, you'll want to make sure that you can depend on the accuracy of your AK 47.
The 4 Best Ak47 Scopes
It is about time that we got to the goods and brought out the list of scopes we are going through today.
Through some close comparisons and hands-on testing, we have been able to figure out which scopes have the highest potential when it comes to showcasing the AK 47's functionality.

They all come really close when it comes to being the best options for the AK 47. Here is a list of our top possible candidates:
1. The Aimpoint PRO Patrol Rifle Optic
Check Price on Amazon
Check Price on OpticsPlanet
Commonly found in the arms of troops in combat situations, this scope is perfect for when your eyes have been straining to look through the crosshairs. This excellent piece is one of the best created by a small group of Swedish entrepreneurs whose overall goal was to improve shooting accuracy.  
The ability for enhanced speed increases the probability of hitting that first shot on your target or prey. This is in comparison to using other types of magnified scopes or iron sights. The aiming size of the red-dot is 2 MOA.
The scope is also compatible with all current generations of any night vision gun applications. Why should your target practice stop when the sun goes down? We definitely recommend pairing this with night vision gear in the evening due to the decreased vibrancy of the red dot.
Lasts So Long It Feels Like A Lifetime
Aimpoint designs the scopes to last on a single battery, allowing you to keep it on for approximately three years. After which, the battery will need replacement. In the meantime, however, you won't need to get into the complications of fumbling with switches or knobs to turn it on. The suggested longevity of the batteries lifetime is 30,000 hours of use.
The Bottom Line
While the price of AK 47 scopes are steep, there are a lot of great perks that come with the Aimpoint PRO Patrol Rifle Optic. It is easy on the eyes, has several settings for brightness, and is incredibly durable. This scope was built to last.
2.

Primary Arms SLX 4-14x44mm FFP Rifle Scope – Illuminated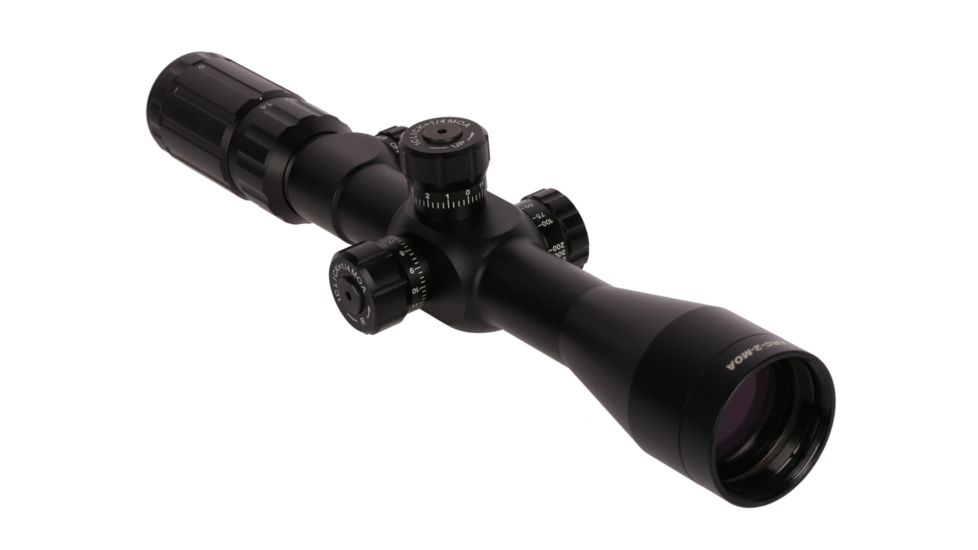 Check Price on Amazon
Check Price on OpticsPlanet
Most people tend to use their AK-47 for short to mid-range tactical engagements or target practice. But you can also stretch out the effective range of the firearm with a slightly longer-range optic.
That's exactly what this SLX scope from Primary Arms brings to the table: farther effective range. For instance, it offers magnification between 4x and 14x power, plus a 44 mm objective lens that's wide enough to collect plenty of shooting light for your needs.
This is a first focal plane reticle – that means that the size of the reticle's holdover points will slightly shift each time you change magnification powers. Each hashmark will remain accurate relative to your target. This type of reticle takes a little getting used to, but it's often effective once you put some practice in.
Illuminated Reticle
Even better, the reticle for this scope is illuminated and comes with six different brightness settings. The reticle is powered by a common but long-lasting battery, so you should enjoy hundreds of thousands of hours before needing to replace it. The illuminated reticle will go a long way toward helping you pick out your targets in tactical environments.
It's also a fairly durable scope, which is good since most AK-47s can rattle heavily and produce significant recoil. This scope comes with a waterproof and fog-resistant construction, plus a three-year warranty for any manufacturer defects.
Additional turrets are included so you can modify the scope for windage and elevation. We also really like that there's a parallax adjustment knob on the other side. This, in turn, can help you compensate for longer distances: a crucial thing to consider for any scope that offers magnification power above 10x.
The Bottom Line
Overall, the Primary Arms SLX 4-14x Scope is a great choice for AK-47s and other rifles commonly used for midrange tactical and longer-range urban combat situations. There's a lot of value contained within this relatively affordable scope, especially when you consider the warranty and the included accessories (a set of lens covers and a cleaning cloth). 
If you are interested in shotgun scopes, check our reviews here.
3. UTG 3-9×32 1" BugBuster Scope
Check Price on Amazon
Check Price on OpticsPlanet
It won't be hard to find this scope in the hands of an experienced hunter.
Leapers, Inc. has been hard at work over the last two decades, producing manufacturing, and fulfilling orders for this great device. The company started off as a garage business with only a small compact scope for their first project.
It is a medium-weight option that provides several added features to increase the efficiency of your rifle. For example, the scope features an emerald coating. This allows for the optimal amount of light transmission.  The lens itself uses a mil-dot reticle, giving the user the option to have a dual illumination.
Power To Those Who See The Larger Picture
The UTG scope hits on some of the subtler points that aren't touched on by other companies. It offers a broad field view of 100 yards in its sight. It includes a parallax feature of three yards to infinity. These two in combination virtually eliminates any possible visual errors when using this piece.
The Bottom Line
The UTG 3-9×32 1" BugBuster is an inexpensive option for a lot of punch. It focuses on long-range magnification from 3-9x. The lens is certainly made to a high-quality standard and remains fog and water resistant.
4.

Leupold VX-Freedom 3-9X40mm Riflescopе
Check Price on Amazon
Check Price on OpticsPlanet

If you want to use an AK-47 as intended, you'll need a versatile riflescope that can help you with both close and midrange combat or target shooting. In that case, we highly recommend this Leupold VX-Freedom scope, as it's designed for magnification powers between 3-9x and has a 40 mm objective lens to allow for adequate light collection.
It's also a lightweight and durable optic through and through as it's made of aircraft-grade aluminum. The optic, like all of Leupold's scopes, is punisher-tested at the factory before being sent out to a customer, ensuring it'll continue to work even under harsh recoil. Therefore, you can reliably use it with an AK-47, even if you practice fully automatic firing more often than not.
It comes with excellent windage and elevation adjustment turrets and scratch-resistant lenses for further benefits. You can even take this optic into inclement weather since it is totally water and fogproof.
Twilight Light Management System
But this optic is most notable for its proprietary Twilight Max Light Management System. It's essentially a specialized lens system that allows the scope to collect about 10 extra minutes of shooting light at the beginning and end of the day.
This is normally a great feature for hunters. But AK-47 users who need more shooting light in a tactical operation will find this to be extremely beneficial. The Management System kicks in automatically, too, so you don't have to worry about adjusting any extra settings.
The Bottom Line
All in all, the Leupold VX-Freedom rifle scope is a high-quality optic through and through. There's practically no downside to purchasing this scope due to its long-term durability, versatility, and extra light collection features. Just note that the scope's windage and elevation turrets are unmarked by default, so you'll need to pay attention to compensate for these variables if shooting at farther distances.
---
Important Things To Look For In A Scope
When purchasing the best scope for AK 47, there are certain things to keep in mind. The type of scope that you need will change depending on the purpose that you're looking for. This is in addition to the skill of handling the rifle.
You might also check our guide on the best optics for 450 Bushmaster and best 17 WSM optics.
All scopes are decent for close-range shooting, but others are better for the type of hunting that you wish to accomplish.
If recoil is a concern, then you will want a scope that has excellent eye relief. If you like when a scope accommodates for parallax, then you can quickly eliminate a handful of ones that don't even consider it. Yet, if you want something that will endure rough conditions, then make your intended scope has a secure structure.
There is scope out there for every type of hunter!
One thing, in particular, to be aware of is to be mindful of the value that the scope can provide. Attachments for the AK 47 can be expensive. You'll definitely want a scope that will fulfill your needs while giving you a long-lasting and high-end performance.
So… What Should I Buy?
In the end, the choice is yours. The scope that you purchase will really depend on your individual needs and what you are hoping to use it for.
All of these scopes listed here are great in their own individual way. What may work well for one person won't meet the hunting needs or requirements of another.
Is there a scope for an AK 47 that you like that you don't see on here? Have you had a great experience with one of these wonderful scopes? Is there a particular feature that you enjoy or find interesting about one of the scopes listed?
Post below and let us know what type of scope that you use with your AK 47 and how it works with your gun. We would love to hear what you think!
---
Frequently Asked Questions
Why Is The AK-47 So Famous?
You would believe that the AK-47's ferocious appeal is due to its precise precision. But there is more to it than that. The AK-47's main selling advantages are its simplicity and ability to withstand a lot of punishment. The rifle was created to be simple to operate, maintain, and repair.
When Did The AK-47 First Get Used?
The AK-47 was first designed in 1945 in what is now modern-day Russia . The fixed-stock variant was placed into active service for selected units of the Soviet Army in 1948, after it was presented for official military trials in 1947.
Was The AK-47 Used in World War II?
No. The AK-47 was designed by the Soviets after WWII and issued to the communist army's conscripted men. The gun's design and widespread availability have made it popular with small-arms traffickers, insurgents, terrorists, and child soldiers alike.
Where Did AK-47 Get Its Name?
The AK-47 is also sometimes called the Kalashnikov Model 1947. The initials AK stand for Avtomat Kalashnikova, which means "automatic Kalashnikov" in Russian, and refer to the weapon's designer, Mikhail Timofeyevich Kalashnikov, who invented the weapon's adopted version in 1947.
Is The M16 or AK-47 More Accurate?
The M16 is a weapon that is far more accurate than the AK-47. It's a lot smoother-to-use weapon with less recoil. During full-auto fire, the M16 is significantly easier to operate. Because of its internal construction, the M16's recoil moves the weapon very little.
How Many Rounds Does an AK-47 Hold?
The common AK-47 magazine holds 30 rounds and is flat with a curve in it to allow the bullets to feed properly.
How Much Does An AK-47 Cost?
A genuine AK-47 is an NFA class III firearm with a price tag of between $15,000 and $20,000. It will take you 9–12 months to complete all of the paperwork and get the transfer approved, assuming you can even find one for sale.
How Much Does An AK-47 Weigh?
Typically, the weight of an AK-47 is about 10 pounds – 9.5 pounds to be more precise.
How Long Will An AK-47 Last?
Depending on the quality of the barrel, you'll receive anywhere from 6000 to 12000 rounds before the accuracy starts to deteriorate. 
Does The Russian Army Still Use the AK-47?
No. The AK-74M assault rifle is currently carried by Russian forces. The 5.45-millimeter AK-47 rifle is a descendant of the 7.62-millimeter AK-47 rifle.
Why Does The AK-47 Rarely Ever Jam?
The AK-47 has a lot of space between its moving parts compared to other assault weapons. This is poor for accuracy, but it guarantees the mechanism is unlikely to jam, no matter how clogged with sand or dirt it becomes.
What Ammo Does The AK-47 Use?
The AK-47 uses a 39mm length cartridge to fire 7.62mm diameter bullets, which are commonly referred to as 7.62 x 39mm rounds. These bullets are substantially less powerful than 7.62mm NATO bullets, which are fired using a 51mm long cartridge known as 7.62 x 51mm rounds.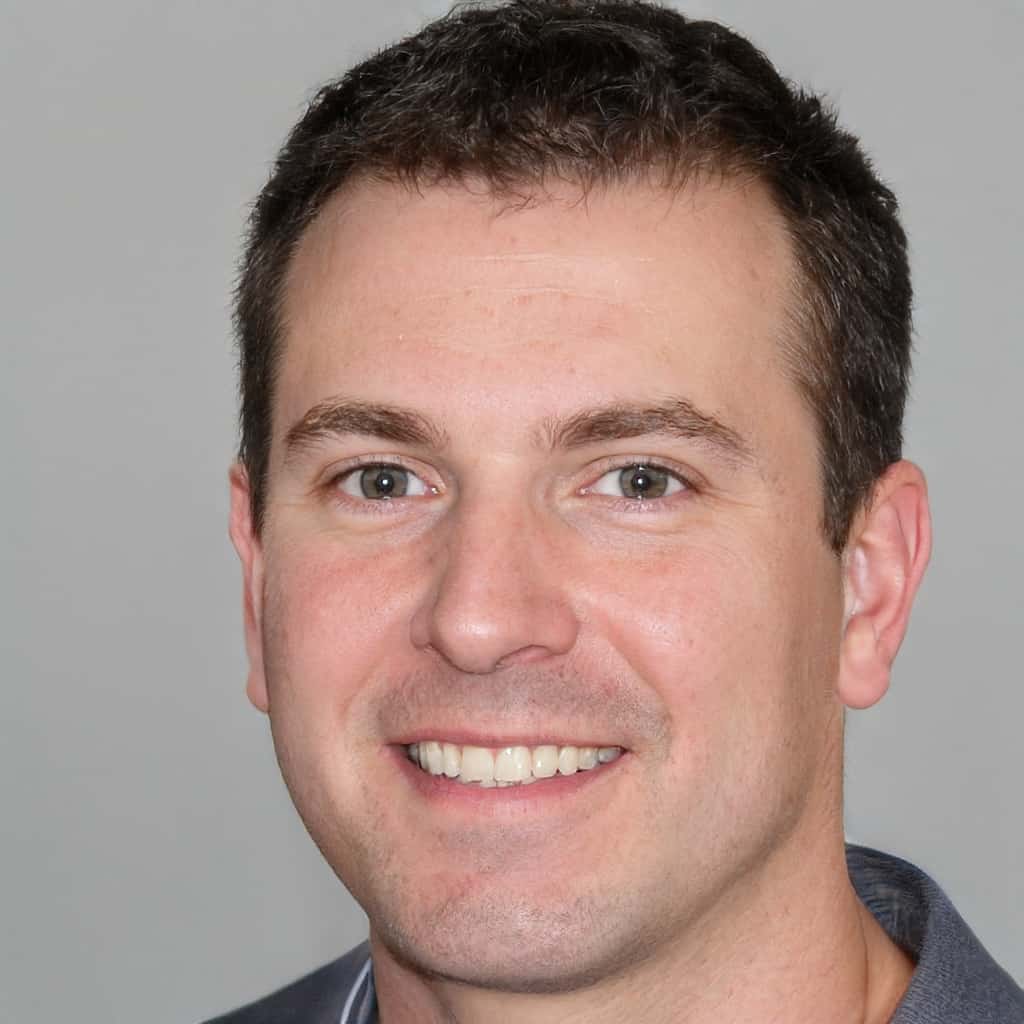 Mike Fellon was born and raised in Dallas, Texas. He inherited his hunting passions after his father John – he was fascinated by his stories, hearing how much attention, focus, dedication and patience he invested in shooting every animal. When he was old enough, his father first allowed him to shoot some cans and bottles with his shotgun, and then took him hunting – it was love at first sight. Mike has never stopped pursuing his hobby ever since.