Scout rifles are as popular among hunters today as they were in the 1970s when they were first popularized by Col. Jeff Cooper. A scout rifle is more of a concept than a specific weapon. It is an umbrella term used to define an all-purpose rifle.
One thing that Cooper envisioned the rifle to have is a scout scope, and this still holds true. This is because a scope allows you to zoom in on your prey and be as accurate with your aim as possible.
Since a scout rifle is supposed to be lightweight, you need to make sure that the scope you choose to complement it doesn't add much to its overall weight. Additionally, a scout rifle and, hence, the scout scope is subjected to harsh outdoor conditions, so having a robust scope is a must.
Therefore, just any scope will not fare well with a scout rifle. You need to choose it wisely. For this reason, we have reviewed four of the best scout scopes. Pick the product that best satisfies you.
The 5 Best Scout Scopes
The ideal scout scope is one which features ample eye relief, is rugged yet lightweight, and has a price that is justified by its features. Here are our top five picks which we feel tick these boxes to some extent.
1. Burris 200261 Ballistic Plex 2-7x32mm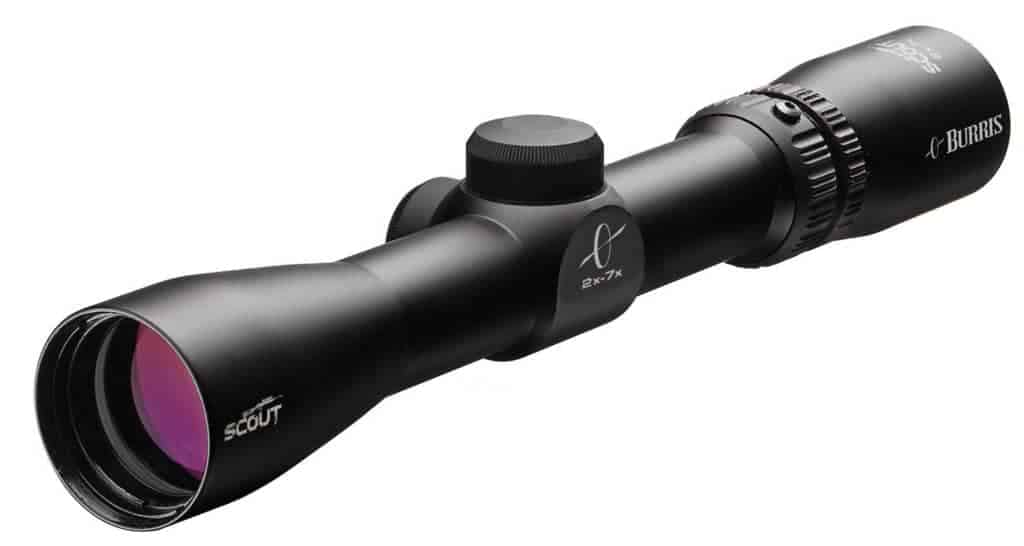 Burris has taken it upon itself to deliver quality optics, and its Ballistic Plex scope succeeds in being an apt example of this commitment. It is equipped with an array of value-added features, each of which makes the product a worthy investment. An excellent choice for m1a scout.
Lifetime Warranty
Regardless of which product you purchase, nothing makes it more cost-effective in the long run than an extended guarantee. This Burris scope is accompanied by a lifetime warranty. This also serves to be an evidence of the durability of the scope. After all, why would a company back a product with such a claim if it knows that the scope is bound to require repairs in a few years? Hence, you can expect the Burris scope to last a longtime.
Nitrogen-Filled Construction
The manufacturers have filled and later purged this Burris scout scope with nitrogen gas over 24 times. This process of filling and purging out the gas plays an integral role in absorbing any moisture that may persist in the inner components of the scope. The elimination of moisture is what makes this product both water and fog-proof. Therefore, you can trust this scope to provide you with a clear vision in foggy as well as rainy days.
Fast Target Acquisition
The riflescope uses a lens which features a wide diameter. This allows the scope to offer you quick target acquisition. This remains true even if you wish to use the scope with both your eyes open. This means that from the moment you spot a prey, you will set a target on it without wasting time in focusing and altering the magnification of the scope.
Specification
The scope has a double internal spring force

The lenses feature multiple coating.

It weighs 13 ounces and has dimensions of 12 x 3 x 3 inches.

It has an eye relief of 11-21 inches.

The magnification offered is 2-7x.

The exterior exhibits a matte black finish.

Its click value is a ¼ inch to 100 yards.
2. UTG 2-7×44 30mm Long Eye Relief Scout Scope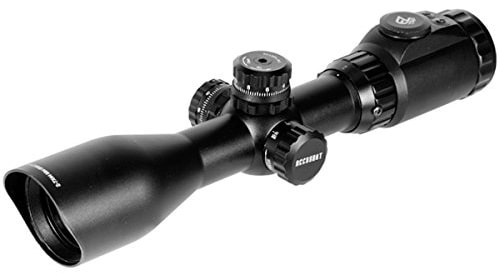 With magnification, easy adjustability and audible clicks, the UTG Long Eye Relief Scout Scope has been lauded by the masses for delivering quality while remaining within a budget.
Long Eye Relief
If we are to remain faithful to Jeff Cooper's definition of a scout rifle, one of the things that it must deliver is long eye relief. This scope is equipped to provide your rifle with this feature. Even if your weapon cannot have a scope mounted to it, the long eye relief of up to 11 inches is bound to come in handy.
Enhanced Durability
Any gear you use on an outdoor trip should be robust. How else can you guarantee that it would be able to withstand the wear and tear of the harsh environment, whether it be adverse weather conditions or frequent impact? The UTG scope's exterior features premium and strong construction with an emerald lens coating. When you add this feature to the fact that the scope is shockproof, the output is bound to be a durable scope.
Usable in All Lighting
Not all scopes can deal with varying lighting conditions. While some of them are manufactured to offer performance in bright light, others are made specifically made to be used in low light. This is highly inconvenient for customers. UTG instead offers a scope that can be used in all types of lighting. This is achieved through the dual-color mode and the 36-color feature that provides clarity and enhanced brightness.
Specifications
The coating is fog-, rain- and shock-proof.

An angled sunshade is included in the scope that filters off excess light to ensure optimum vision.

The weight of the scope is 1.6 ounces.

The product dimensions are 14.5 x 3.2 x 2.8 inches.

The eye relief is available for up to 11 inches.

The turrets can be locked and have ¼ MOA per click.
3. Aim Sports 2-7×42 8.5-10.5″ Long Eye Relief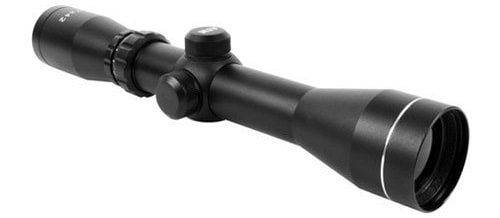 Are you looking for a scope that can withstand heavy recoil without damaging itself? Well, Aim Sports might have the perfect solution for you with this scout scope. You will find its light transmission along with its stylish exterior to be satisfactory.
Robust Construction
The type of material a scope is made of plays a crucial role in how long you can expect it to last. For instance, if the quality of the material is subpar, it is likely to break with a slight impact. The manufacturers of this scope have used aircraft-grade aluminum in its construction, so even if you drop the scope now and then, you can still expect the scope to remain functional. This will also hold true for heavy recoil that usually impacts scopes adversely.
Multicoated Lens
The lens of the scope is coated with a green fused material. This multicoated feature aids in delivering various benefits. This includes satisfactory light transmission through the lens, a quality resolution, and resistance against scratches to ensure that the visibility offered by the scope remains intact.
Matte Black Finish
Some of you might value the style and aesthetics of scopes as well. After all, what fun is a shooting experience if you don't look good doing it? While some of you may prefer flashy scopes, a simple finish is much better since it complements an array of weapons. For those of you who value sophistication and simplicity, the matte black finish of the exterior is bound to satisfy you.
Specifications
The housing is resistant to shock as well as fog.

The eye relief offered is 8.5-10.5 inches, which ensures that you stay safe from recoil.

1913 Weaver ring mounts are included with the scope.

It is filled with nitrogen and sealed with a weather-resistant cap.

The weight of the product is 14.5 ounces, which is on the heavy side of the spectrum.

The objective lens diameter is 42 mm.

The tube diameter is 32 mm, while the magnification is 2-7x.
4. Vortex Optics Crossfire II 2-7×32 Riflescope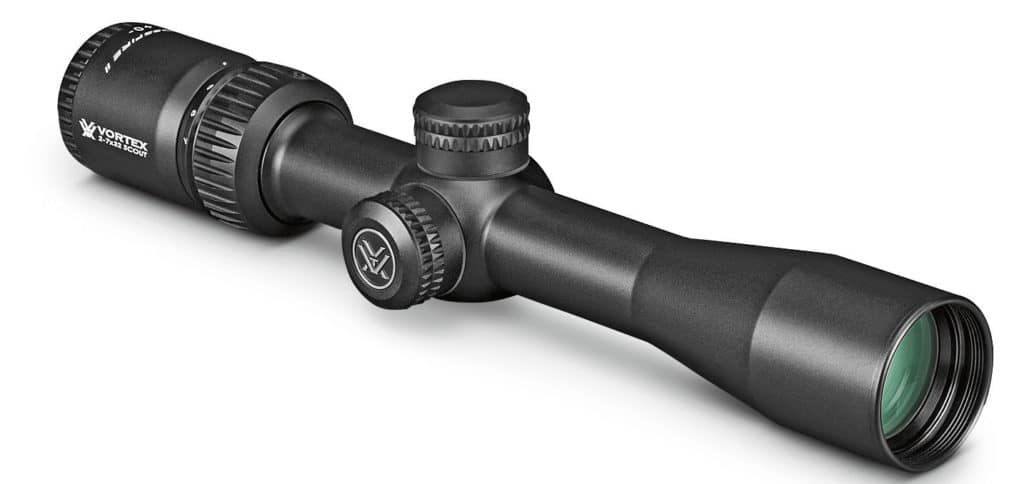 Vortex claims to have made a scope that optimizes the performance of a riflescope. During our review, we put these claims to the test and found that its riflescope lived up to the promises made. Whether it be lightweight or long eye relief, this scope manages to deliver it all.
Single-Piece Tube
The single-piece tube of the scope comes with various elements that allow the scope to deliver optimum performance. Firstly, it is made of high-quality aircraft-grade aluminum. This ensures the rigidness of the scope. The tube also succeeds in enhancing the alignment of the scope, which guarantees that you can acquire your target as accurately as possible.
Multicoated Lens and Focal Plane Reticle
Both the multicoated lens and the second focal plane reticle play a vital role in providing clear and sharp images to users. The multicoated lens is responsible for increasing the amount of light that is transmitted into the scope. The inner house tube features anti-reflective coating so that the user can clearly see their target, even under the glistening sun. The focal plane helps in wind drift correction so that the accuracy of the product is maintained.
O-Ring Seals
Instead of just focusing on purging the interior with nitrogen, the manufacturers have taken it further up a notch by adding O-ring seals too. Once nitrogen has absorbed all the moisture, the O-ring seal ensures that the vacuum created is maintained. Together, this reduces the chances of the scope fogging up from the inside.
Specifications
The magnification offered is 2-7x.

The maximum eye relief you can get out of this scope of 9.45 inches.

The single-piece tube measures one inch.

Capped turrets are present in the product.

The lens diameter is 32 mm, and the field of view is 5.2-18.3 feet.

The weight of the scope is 12 oz.

The maximum elevation adjustment offered is 60 MOA.
Conclusion
These scopes deliver quality performance. We personally found the Leupold VX-2 1.5-4×28 IER Scout Scope to be the best among them all. This is because not only did this scope have a reasonable price, but it is also equipped with all the needed characteristics, whether it be robustness, long eye relief or lightweight.
However, this does not mean that the other four scopes are not worth the investment. In reality, your choice might be completely different from ours. The purpose of this guide was to provide you with suitable options. You can take it from here and choose whichever product appeals to you the most.
Be wise about your purchase decision. The quality of your scope will determine how easily you can hunt down your target. Pick the best scout scope, mount it on your rifle and let the adventure begin! If you are a fan of something traditional you may like best muzzleloader scopes.